Fall Colors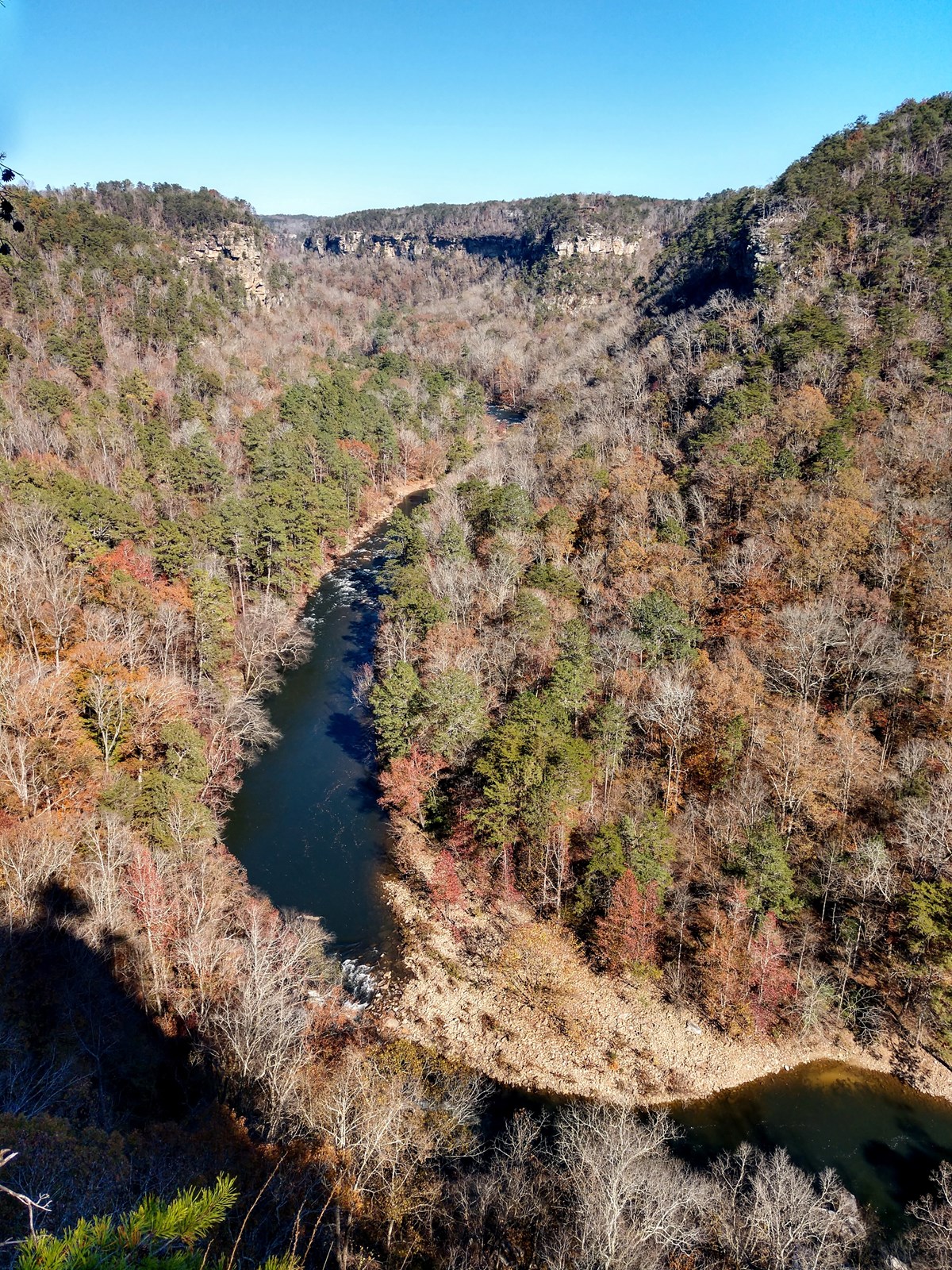 Little River Canyon - Friday, November 13, 2020 at 12:27 PM

Little River Canyon National Preserve is now past peak season for Fall color
Falling for Fall at Little River Canyon National Preserve!
Little River Canyon National Preserve is a favorite spot in the South to experience the changing of the seasons. Beginning with the brilliant reds of Woolly Sumac, the autumn leaf season tends to last several weeks with a one to two week peak, usually in late October and early November.
Photos of Little River Canyon from different overlooks will be taken a few times a week and posted above, with the date and time for your reference.
Wondering when the prediciton for peak color is for areasacross the country?
Check out the SmokyMountains.com Fall Foliage Prediction Map!

Fall Color Facts
Why are fall colors so remarkable in the Smokies? One reason is the park's amazing diversity of trees. Some 100 species of native trees live in the Smokies and the vast majority of these are deciduous.

How do colors change?
From spring through the end of summer, the green of chlorophyll is the most prominent color seen in leaves. As summer comes to an end, the chrolophyll begins to degrade and gives the other colors the chance to express themselves.

The yellows and oranges often seen in birch, hickories, and tulip poplars come from carotenoids, the pigment that makes carrots orange.

The brilliant reds and deep purples come from anthocyanins, which aren't present in the leaves during the summer, but is formed as the sugars remaining in the leaves break down.
Why makes a colorful Fall?
How beautiful fall colors will be is determined throughout the year, long before the first leaf begins to change color.

Spring - a wet spring is the perfect set-up to a brillaint fall. Plenty of water during the leaf growing season will ensure healthy leaves with a long life lasting into September and October.

Summer - a summer with average rainfall throughout will give the best results in the fall. A long, hot, dry summer drought, however, will stress trees and often lead to a lack-luster fall.

Fall - cool temperatures and lots of sun at the end of summer and the beginning of fall break down chlorophyll. Freezing temperatures, a hard frost, hard rains, and heavy winds can make leaves fall before their brilliant fall show.

Last updated: November 13, 2020