Canyon View Overlook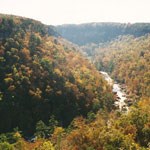 You can view Wolf Creek Overlook from here. This overlook offers a fantastic view of the canyon.
Little River is about 400 feet below the overlook. You may see kayakers on the water during the winter or early spring.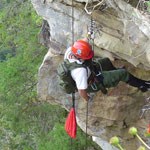 The sheer sandstone cliffs with the many overhangs offer a challenge to experienced rock climbers. Rock swallows (birds) can sometimes be seen building nests on the walls of the canyon.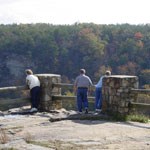 This is a great place to take photographs. The fall colors are beautiful toward the end of October through December. In the spring and summer everything is lush and green. During the winter the view is of icicles and white trees. You also have a better view of the cliffs and rapids after the leaves have fallen.
Last updated: January 17, 2018