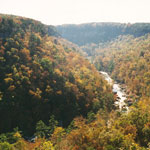 You can view Wolf Creek Overlook from here. This overlook offers a fantastic view of the canyon.
Little River is about 400 feet below the overlook. You may see kayakers on the water during the winter or early spring.
Bring your camera and take as many photos as you want. When you are finished, enjoy a picnic at one of the two picnic tables.