Birds
The sharp knocking and laughing call of the Pileated Woodpecker coming from the woods. The Hollywood-iconic cry of the Red-Tailed Hawk over the canyon. The red flash of a Northern Cardinal darting through the trees. These are but a few of the over 140 species of birds which call the woods, waters, and rocks of Little River Canyon National Preserve home.

Birds play a vital role in maintaining healthy ecosystems at Little River Canyon, pollinating plants, hunting prey, and scavenging carrion. In a single visit, visitors may witness Great Blue Herons and Belted Kingfishers catching fish at Canyon Mouth Park, Bald Eagles and Gold Eagles perched in trees down in the canyon, and Turkey Vultures and Black Vultures soaring on the currents along the canyon rim, while songbirds liven up the woods around you. Birds even lend their names to viewing locations on the canyon rim - Hawk's Glide and Crow Point.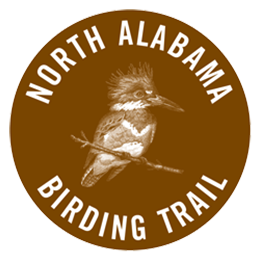 Little River Canyon National Preserve is one of the 19 featured stops along the
Northeast Loop
of the
North Alabama Birding Trail
.
Watch for the North Alabama Birding Trail markers along the Little River Canyon Rim Parkway (AL Highway 176) at the driveway to the Jacksonville State University Little River Canyon Center on the north end, and at Eberhart Point at the south end.
You can view, save, or print the Bird Checklist below by selecting Birds from the Select a Species Category drop down list below.
Select a Park:
Select a Species Category (optional):
Search results will be displayed here.

Visit NPSpecies for more comprehensive information and advanced search capability. Have a suggestion or comment on this list? Let us know.
Last updated: April 2, 2021