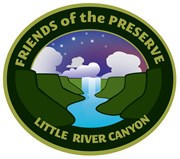 Join now and become an ambassador for one of Alabama's most fascinating natural treasures. Help us to preserve this beautiful part of our national inheritance.
For information, please contact us at 1-256-845-9605 or visit our website at www.friendsofthepreserve.org
The Friends of the Preserve at Little River, in partnership with the National Park Service, works to support the highest level of preservation, protection, management and interpretation of the natural, cultural and historic resources of approximately 13,000 national park acres.