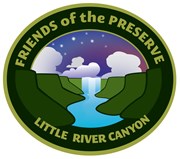 FRIENDS OF THE PRESERVE (FROP)
JOIN NOW! Become an ambassador for one of Alabama's most fascinating natural treasures. Help us to preserve this beautiful part of our national heritage. For more information, please contact us at (256) 845-9605 or visit our website at http://www.friendsoflittlerivercanyon.org.
The Friends of the Preserve was established to promote the natural, cultural, scenic, and recreational resources of Little River Canyon National Preserve; to protect those resources; and to assure that they are available to the public and are also here for the appreciation and enjoyment of future generations. We are a non-profit organization that recognizes Little River Canyon National Preserve as a special and nationally significant place.