Pets
Our furry friends are our family, but there are some things to be aware of before bringing your dog to the park.
Pets are prohibited from entering Kaloko Fishpond, 'Aimakapā Fishpond, and any anchialine pool.
Pets are permitted on leash in the Kaloko picnic area and on designated, maintained park trails and beaches.
Pets are allowed to swim in coastal waters but must always be on leash, even when swimming. (see under Pets p.10)
Kaloko Honokōhau is a cultural site, and no ground disturbance is allowed. Please make sure that your pet does not dig on beaches or along trails.
Pet owners must pick up after their pets and dispose of waste in a trash receptacle.
Pets must be under their owner's control or restrained on a leash no longer than 6 feet in length at all times.
Plastic bags are provided near the Kaloko Fishpond and Honokōhau Harbor Welcome Gate next to Kona Sailing Club and the south entrance of the park. Please pick up after your pets and properly dispose of any waste.
The Mamalahoa and Mauka-Makai Trail are hot during the day and may burn your pet's feet. Pets may overheat even if you bring water. Walk the coastal trails from Honokōhau Harbor or Kaloko Fishpond parking lot for a cooler walk instead.
Pursuant to 36 CFR 2.15 (a)(2) – Failure to leash or restrain a pet while in the park may result in an $80 violation notice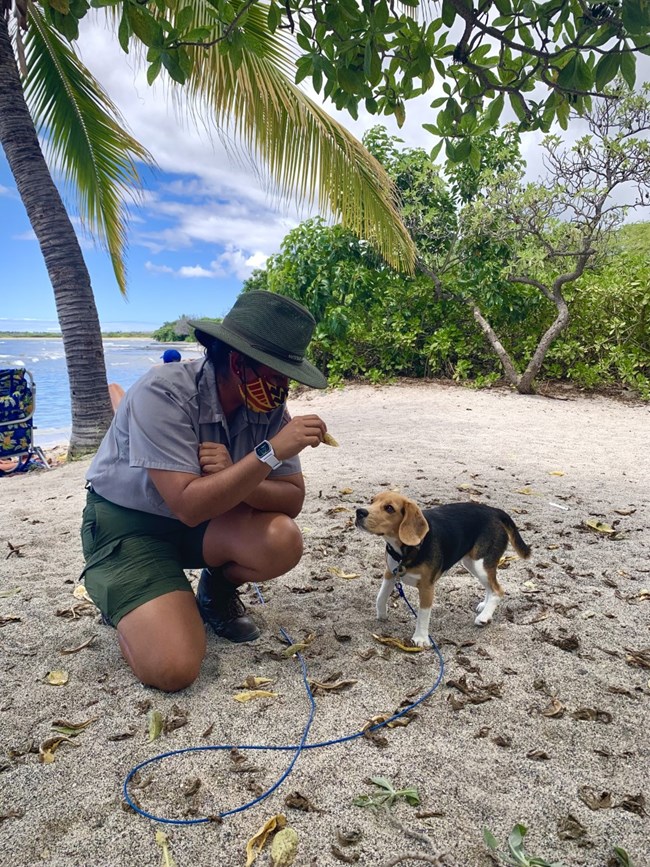 Service animals are allowed in national parks. For a definition of a service animal, please see the ADA 2010 Revised Requirements: Service Animals
A service animal shall be under the control of its handler. A service animal shall have a harness, leash or other tether, unless either the handler is unable because of a disability to use a harness, leash, or other tether with the service animal's safe, effective performance of work or tasks, in which case the service animal must be otherwise under the handler's control (e.g., voice control, signals, or other effective means).
Is your pup a B.A.R.K. Ranger?

Start by practicing the basic B.A.R.K. ranger principles in the park and your own neighborhood:

B - Bag your pets waste
A - Always leash your pet on a 6 feet leash
R -Respect wildlife
K - Know where you can go

We welcome our furry friends at Kaloko-Honokōhau, and the pups in our park are great stewards by using proper leash etiquette and respecting local wildlife.
#RecreateResponsibly
#BARKRanger


Last updated: September 14, 2021