Coral Reef Activities and Staff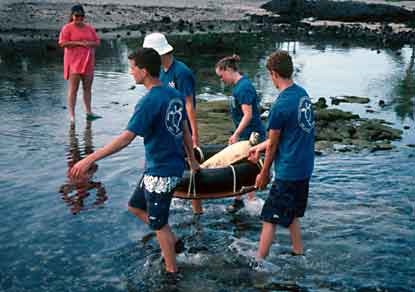 The park waters have constantly been threatened, and violated, by groundwater pollution from developments adjacent to the park.
Recently the Park succeeded as an intervening party in the State of Hawaii Land Use Commission (LUC) 2001/2002 hearings regarding TSA Corporation's request to change lands upslope of the park from Conservation to Urban. The park intervened with the goal of requiring that the industrial development control non point source pollution from wastewater and storm water runoff originating from its site. The proceedings took nearly a year, including ten days of expert testimony. In the end, the LUC issued a landmark Findings of Fact Conclusions of Law Decision and Order document detailing the resources in the park and the risks facing them. They also found that the studies by the developer were not adequate to prove that no impact to the park's water and hence, cultural resources, would occur. The LUC imposed 28 stringent conditions providing protection from nonpoint source pollution. The park had tireless and outstanding work from the DOI Solicitor, Nicole Walthall, and from experts from the NPSWRD, USGS, UHH, and private industry. This is a landmark case. Heretofore only effect upon waters that could result in hazard to human health could be regarded as deciding criteria. This case now allows consideration of potential ecological hazard to be considered as well.
View the LUC decision in pdf format
.
Last updated: February 28, 2015