Climate Change
Our Earth's changing climate will profoundly affect National Parks across America, including John Muir National Historic Site. Extreme heat waves, droughts, more wildland fires, coastal flooding and erosion, and other forms of habitat destruction are among probable scenarios in the coming decades.
Protecting the sensitive plant and animal species at John Muir National Historic Site is a critical part of the National Park Service's mission to preserve America's natural resources for future generations to enjoy. Consequently, the National Park Service is taking action to reduce our fossil fuel emissions, to educate staff and visitors about the problem and its solutions, and to develop new land management strategies in the face of coming changes.
What is climate change?
"Climate change" describes how our planet's temperature, precipitation, humidity, wind, and pressure are changing over time. "Climate" means the average conditions in a place over 30 year periods, in contrast to "weather" which describes shorter-term, daily patterns. So although we may experience cold days, the average temperature of our planet is currently increasing every year, as is the frequency of extreme events like wildfires.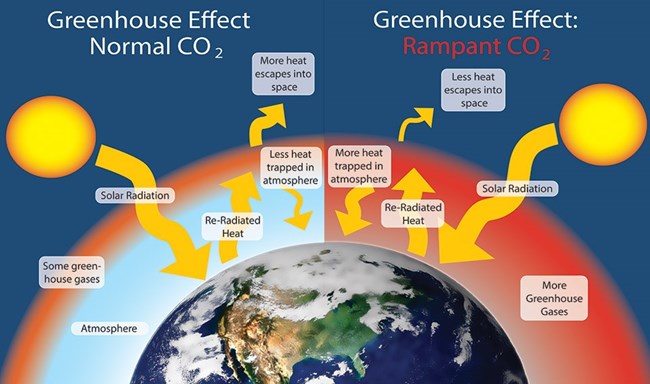 How does climate change work?
The atmosphere is like a blanket that surrounds the earth. It filters out harmful ultraviolet radiation, while letting in the sun's warming rays.
When humans burn fossil fuels (like coal and natural gas) for energy, we add heat-trapping gasses (like carbon dioxide) into the atmosphere "blanket". The thicker the blanket gets, the more heat it traps underneath. This blanket effect leads to warming, which disrupts the climate.
How will this affect John Muir National Historic Site?
Ongoing and future climate change will likely affect all aspects of park management, including natural and cultural resource protection as well as park operations and visitor experience.
Here are the most likely changes that John Muir will experience in the coming decades:
Increasing temperatures, shifting patterns, and extreme events are already affecting the seasonal dynamics that determine breeding, migration, and foraging patterns for many plant and animal species. Some native plants and animals--including rare species found no place else--may be unable to adapt, and will disappear.

The wildland fire season will increase in duration, and there will be more and larger fires.
Plants will become more drought stressed as temperatures increase, making them more vulnerable to pathogens and invasive species.

Planning for Change
Effective planning must be grounded in a sound understanding of the past and present conditions and projected future change.
The San Francisco Bay Area Inventory and Monitoring (I&M) Program collects long-term data on key park natural resources to track changes in plant and animal communities that will help illuminate the effects of climate change on our parks.
What can you do about climate change?
Recent climatic conditions are already shifting to be more extreme than what we've seen in the past. But how bad it gets depends on how fossil fuel emissions change in the next decade. Reducing our emissions of heat-trapping gases, starting right here in California, is the solution. Everyone plays a part in achieving that goal. Many actions may seem small on an individual scale, but remember that changes in a whole community can make a real contribution.

Here are some ways you can act on climate change today:
Talk about it. Have conversations about climate change and sustainability with family, friends, and coworkers.
Build sustainability into your community. Think about the organizations you're in—your place of work, school, or worship. How can those groups take action toward reducing the use of fossil fuels?
Find out where your household energy comes from. In many areas, switching to 100% renewable electricity may come at a comparable price to what you are paying already. Check out your options with East Bay Community Energy if you live in the East Bay, or search for a Community Choice Aggregate in your home area.
Learn about high-impact solutions. There are many ways we can reduce energy consumption or shift to renewable sources in sectors such as transportation, manufacturing, food, and building construction. Discover innovative, research-based solutions with Project Drawdown's solution table.
Volunteer. Park staff are working to protect and preserve ecosystems in the midst of changing climate conditions. Help us take care of this special place by volunteering!
Last updated: May 21, 2020
Explore more nature topics