Birds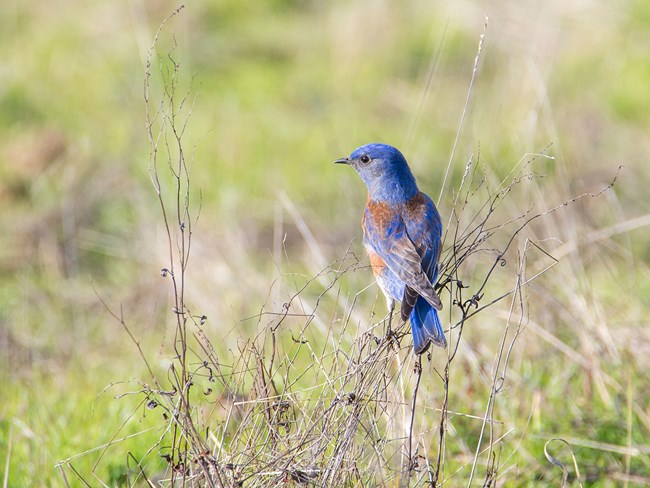 Over 100 different bird species have been documented in the park. While hiking, you're likely to see a red-tailed hawk soaring above your head, hear an acorn woodpecker storing his acorns in a granary oak tree along the park's trails, or see a flock of California quail crossing your path. Below are some birds that can be found while exploring the park.

Red-shouldered hawk: Red-shouldered hawks can be found gliding or soaring around oak woodlands and near rivers. They have brown, black, and white wings and a reddish chest and neck. While hawks are In flight, you can see their black tails are striped across with white bands. Red-shouldered hawks hunt small mammals, amphibians, and reptiles. The oldest known red-shouldered hawk was 25 years old.
Anna's Hummingbird: Anna's hummingbirds are some of the most commonly seen hummingbirds in the area around the John Muir NHS. They eat nectar from flowering plants as well as frequenting hummingbird feeders in neighborhoods. Hummingbird nests are made from plant material and spider webs, and they often decorate their nests with lichens, mosses and other colorful objects. A group of these tiny iridescent birds is called a bouquet, a glittering, a hover, a shimmer, or a tune of hummingbirds.

Lesser goldfinch: Lesser goldfinches are small songbirds with long, pointed wings and stubby bills. Males have yellow bodies with a black crown, and black wings and tails. Females are duller, and have olive-colored backs. They are very common in the Bay Area and throughout California, often flocking with other small songbirds. Their songs and wheezy, descending calls can be heard both in urban areas and natural spaces like oak woodlands and grasslands. Hikes up Mt. Wanda are often accompanied by the songs of these feathered friends.

If you'd like to learn more about these birds and other bird species, visit the Cornell Lab of Ornithology's website.
To see what birds people have recently seen at the John Muir, check out the eBird hotspot page.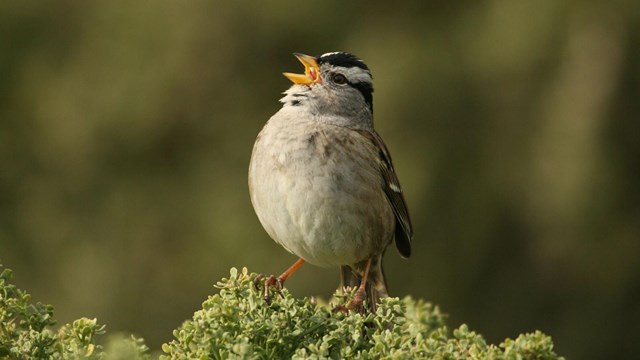 Pacific Coast Science & Learning Center
Browse more resources on birds in San Francisco Bay Area parks.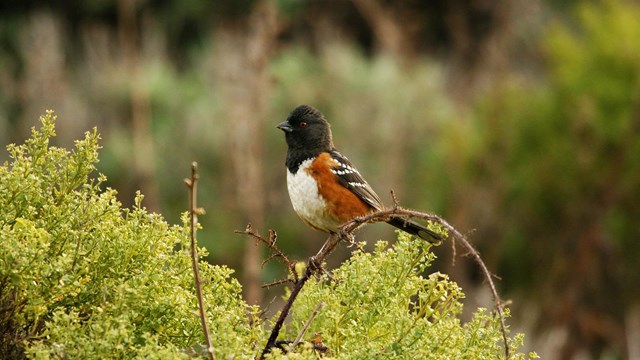 Landbird Monitoring
Learn more about the San Francisco Bay Area Network's Landbird Monitoring program.
Last updated: July 2, 2020
Explore more of John Muir's wildlife