Youth Conservation Corps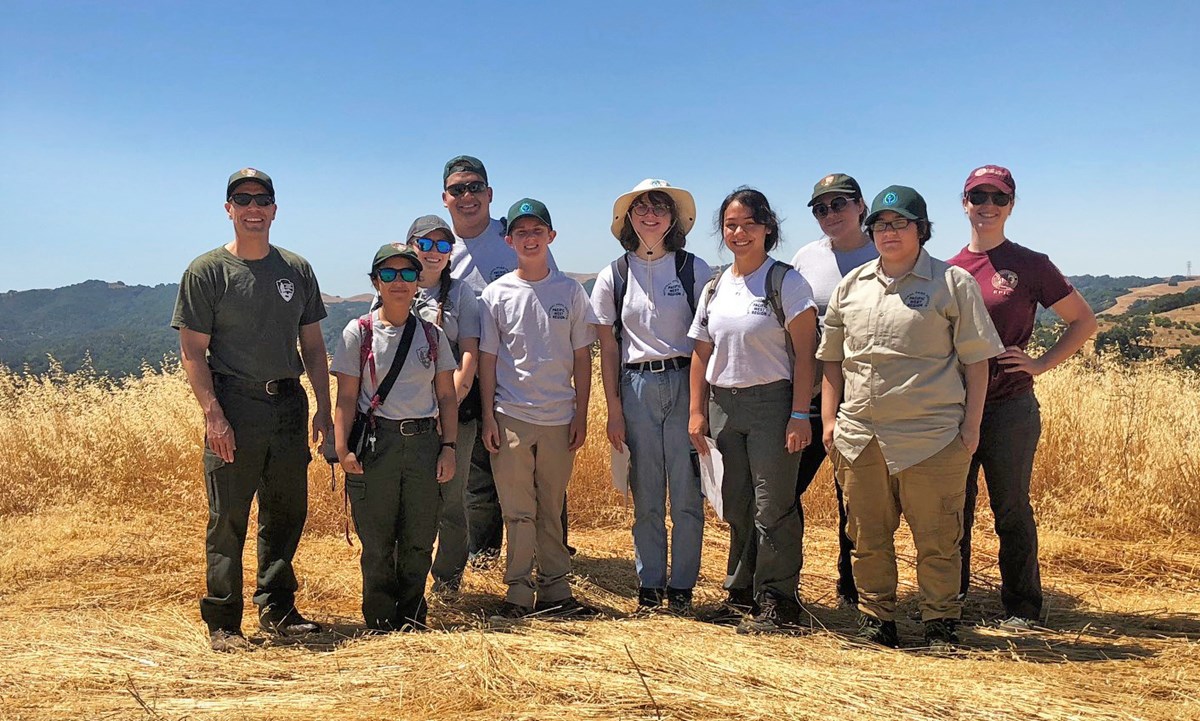 Be a Part of the YCC
John Muir National Historic Site is seeking members for the 2020 Youth Conservation Corps (YCC) summer program. YCC provides an outdoor work experience that is safe, educational, and meaningful to young adults of all backgrounds.
JOB DESCRIPTION
:
The National Park Service (NPS) preserves and protects our country's natural and cultural heritage. The YCC program offers an opportunity for youth to build skills and knowledge that will prepare them for their professional and academic careers. Through the YCC program, John Muir NHS promotes appreciation and awareness of nature and history through hands-on educational experiences. This summer program introduces youth to careers in the outdoors, such as biology, environmental science, landscaping, historic preservation, maintenance, and education. The YCC members will report to John Muir National Historic Site in Martinez, CA, and will also work at other National Parks in the Bay Area, including Rosie the Riveter / WWII National Historical Park, Golden Gate National Recreation Area, and Point Reyes National Seashore. Hands-on training will include: learning about nature and history, teamwork, leadership, safety, First Aid/CPR, landscaping and career development.
PERIOD OF EMPLOYMENT: June 15 – August 7, 2020 (8 weeks)
SALARY: California State Minimum Wage, $13.00 per hour.
HOURS: Work hours are 7:00am - 3:30pm, Monday - Friday, 40 hours per week. Employees will NOT be required to work weekends or on federal holidays (e.g. Fourth of July).
Requirements
Must be 15 years old by the first day of work and cannot turn 19 during period of employment.

Must be a permanent resident of the United States, or its Territories or possessions.

Must commit to the entire 8 weeks

of the program.

Employees absent for three or more work-days are subject to early release from the program.

Must be able to safely perform physical outdoor work activities.

Former YCC participants are not eligible to apply.

Must attend a mandatory orientation on Saturday, June 6th, 2020, 9 AM – 12 PM.
How to Apply
English application at this link
Spanish application at this link
Send all application materials to:
By mail or drop-off:
John Muir National Historic Site
YCC Program Manager
4202 Alhambra Ave, Martinez, CA, 94533
(Open 7 days a week, 10am-5pm)
OR By Email: keith_park@nps.gov


Please note that enrollees are selected without regard to civil service or classification laws, rules, or regulation. The selection process is conducted in a public forum by the random selection method.

Applications are due by April 10th, 2020. Applicants should expect to be notified of the selection results by May 15, 2020.
For more information: 925-228-8860, ext. 6312, keith_park@nps.gov

Additional Information:
Work Conditions
YCC is an entry-level job and is considered non-competitive, meaning no specific work skills are required to apply. YCC members will be trained, supervised, and will regularly work with qualified park staff to ensure that all safety requirement and performance standards are followed.

YCC work will involve work outdoors, including maintenance of gardens roads, trails, equipment and buildings. Some lifting would be expected on occasion. The terrain in some of the remote locations can get steep and rough. In Martinez, summer temperatures can be hot and dry. Frequent breaks will be taken during adverse conditions Hand tools are used on a regular basis. The work site can be dusty and exposure to pollen is likely. Many precautions will be taken during work. But, the work sites –such as natural areas –can contain many of the elements that nature can offer: such as poison oak, biting and stinging insects, and other wildlife. Efforts through education, scheduling of work projects, breaks, and First Aid will limit exposure to these conditions. YCC members will be instructed in the use of all required tools and safety procedures. All safety equipment will be provided by the park, except appropriate footwear and attire.
Participate will not earn paid vacation time. With the exception of Federal holidays, such as Fourth of July, any time off will be non-paid and subject to approval by the Program Managers on a case-by-case basis.
Lodging, meals and transportation:
Lodging, meals and transportation (to and from work) are not provided. It is a daily responsibility of the YCC member to make transportation arrangements and to provide their own lunch and water. For safety reasons, employees who do not bring their own lunch and water will be sent home and subject to release from the program if the issue continues.
Uniforms
Work T-shirts, hats, sweatshirts and safety gear will be provided to all participants.
All YCC participants are required to provide the following:
Comfortable work boots (no sneakers, slippers or sandals)

Long work pants (no loose/ baggy pants or capris accepted)

Lunch and water each work day
Pre-work Meetings:
Before being accepted, a phone meeting is required and will be scheduled to discuss the program requirements and answer any questions. Applicants selected are also required to attend an on-site orientation on the date indicated above.
Last updated: February 10, 2020