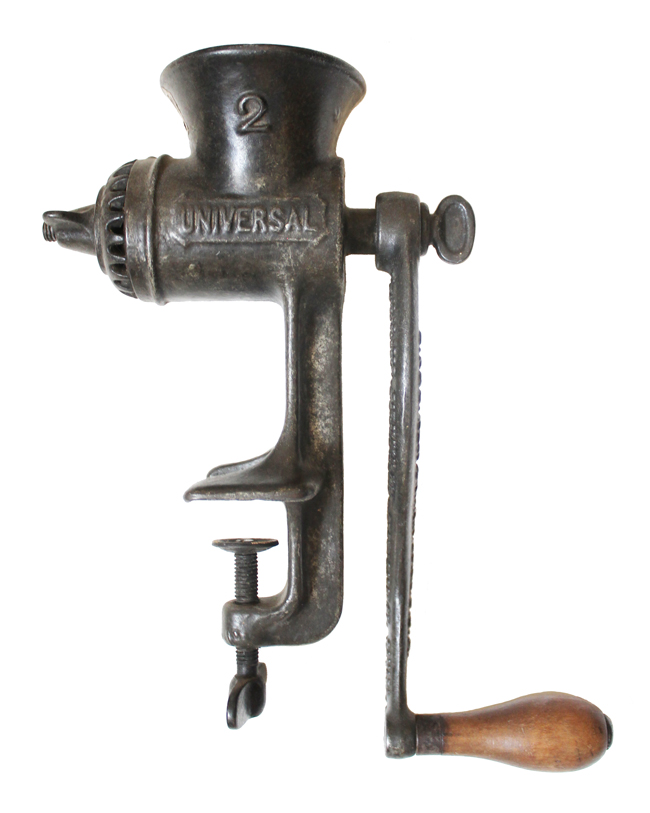 Pictured above is an item not often seen in 21st century domestic kitchens. It is a Universal Food Chopper manufactured by the Landers, Frary &Clark company.
The Universal Food Chopper was first sold by L.F. &C. in 1897, and proved to be so popular that the company still offered it in its catalog over sixty years later. It was marketed as a device that not only ground meat, but also processed vegetables. In a 1955 address to an audience in Connecticut the company's then chairman of the board remarked that with the introduction of the Universal Food Chopper to American kitchens in the late 19th century "Odds and ends could be turned into hashes and casseroles with ease..."  
The number 2 on the device referred to the size of the grinder, with the 3 model being the largest for heavy-duty use and the 00 model the smallest. The appliance originally came with three different blade attachments for fine, medium or coarse grinding. Made of cast-iron by L.F. &C. in New Britain, Connecticut many of these rugged grinders have survived to the present day, outliving the company who made them;L.F. &C. ended its 102 year run in 1965. Modern-made copies are still sold for those who prefer grinding their food by hand instead of using electric appliances.  
This grinder was purchased in 1967 as an antique for inclusion in the kitchen exhibit, but it is likely that the Kennedy family had a similar device in the house during their residency. Mrs. Kennedy probably did not use it much though, as the Kennedys employed a cook during their years on Beals Street. Perhaps a similar grinder was used to make picalilli, a relish made of chopped pickled vegetables and seasonings that Mrs. Kennedy mentioned as one of the foods often served in the family's first home.