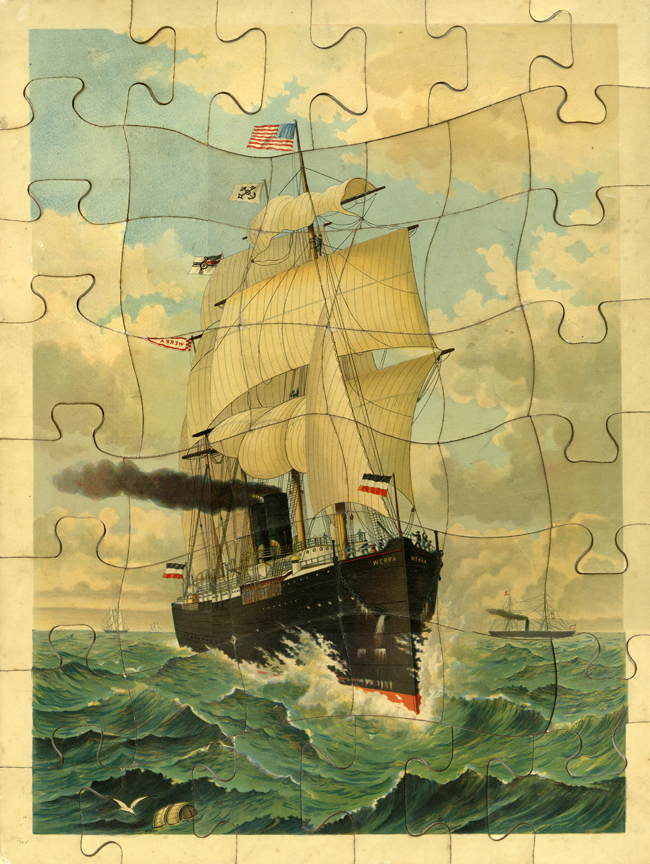 This puzzle is a late 19th century piece depicting a steamship. Although it is a recent addition to the museum collections at the John F. Kennedy National Historic Site, it is a match to the one that Mrs. Rose Kennedy initially chose to place in the nursery. The puzzle that was earlier displayed there was among a set of toys loaned to the site by another museum in the 1970s at Mrs. Kennedy's request. When the loan was ended many years later, the National Park Service was fortunate enough to acquire another example of the exact same antique puzzle.
When John F. Kennedy was born in 1917 travel by steamship was the primary method of trans-Atlantic travel, and had been so for close to half a century. Millions of immigrants arrived in the United States from Europe via steamship, and in 1938 when Joseph P. Kennedy Sr. assumed the post of Ambassador to the Court of St. James much of the Kennedy family traveled to England on the luxury steamer SS Washington. The ship depicted in the puzzle, the SS Werra, was an earlier hybrid type ship with four masts for sails and two funnels for the steam powered engines. The Werra served as both a cargo and passenger ship from 1882 to 1901.
The puzzle above was made by McLoughlin Bros., Inc., a New York publishing firm known for making children's books and paper-based toys such as dolls and soldiers. Although this particular item was not in the Beals Street house during the Kennedy family's residency there, other McLoughlin Bros. toys may well have been as at the time of John F. Kennedy's birth the company was one of the larger toy producers in the United States. They continued issuing games until 1920 when the firm was bought by Milton Bradley & Company, which is still a recognized brand name in the world of toy and game manufacturing.