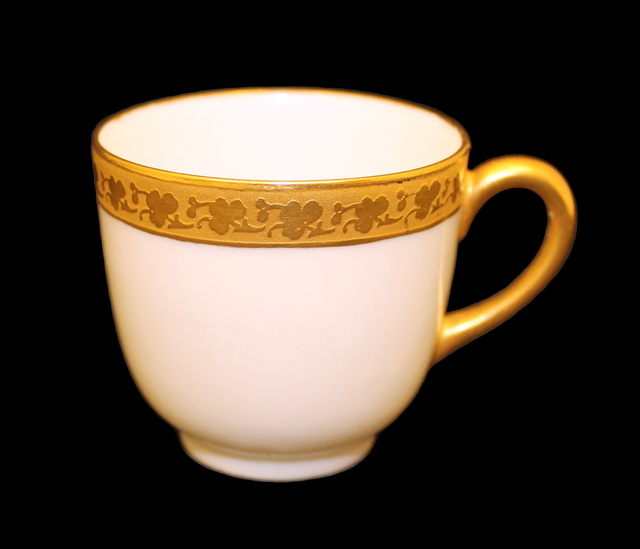 The demitasse cup pictured above was part of a set given as a wedding gift to Mrs. Rose Kennedy from her sister-in-law Margaret Louise Kennedy. The cup's gold rim was painted by Margaret Kennedy while she was a teen-aged student at a Sisters of Notre Dame convent school.

Based on the markings on the bottom of the cup, it was made between 1901 and 1914 in France near Limoges by the Vignaud company. Much of the porcelain produced near Limoges in the late nineteenth and early twentieth century that was shipped to the United States was undecorated. Students in the US, often young women, would then hand paint these "blanks". Rose Kennedy's sister-in-law Margaret seems to have been one of these students.  
The gold rim features a repeating design of tiny shamrocks, recalling the Kennedys' Irish roots. The Kennedy family was proud of their heritage, and John F. Kennedy was the first sitting U.S. President to visit Ireland when he made a trip there in 1963. President Kennedy reportedly said of that trip that it was "the best four days of my life."