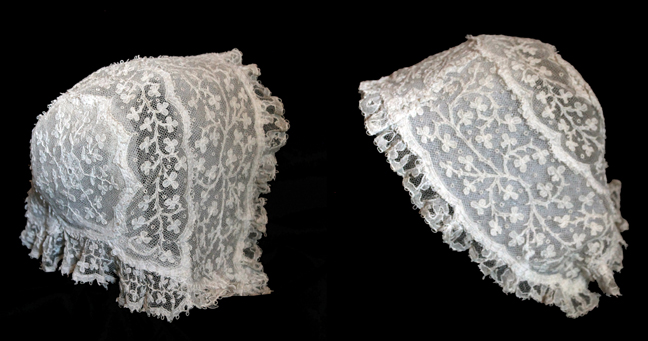 Featured this month is another object that was in the house during the Kennedy family's residency. This lace bonnet can be seen in the second floor nursery. Mrs. Rose Kennedy recalled the bonnet in an interview she gave to the National Park Service in 1967, saying "Somebody gave us that shamrock bonnet, which was sweet." Also, in notes she made about the pieces placed in the refurnished Beals Street home she wrote "There was also a little Irish lace bonnet there which someone gave me, profusely covered with shamrocks."
The bonnet was likely used by multiple Kennedy children, both boys and girls. Children in the U.S. in the early twentieth century often wore the same type of outfits from birth to at least six or so months of age, regardless of gender, and white was a popular color for infants' clothing. Displayed in the master bedroom is a photograph of the eldest child, Joseph P. Kennedy, Jr., showing him at about six months old wearing a bonnet, possibly the same bonnet as the one pictured above.
As noted by Mrs. Kennedy, the bonnet has a design featuring shamrocks, arranged so they appear to be on a vine. The bonnet is one of many pieces among the house furnishings that feature shamrocks, and it is another tangible link to the Kennedy family's Irish ancestry.