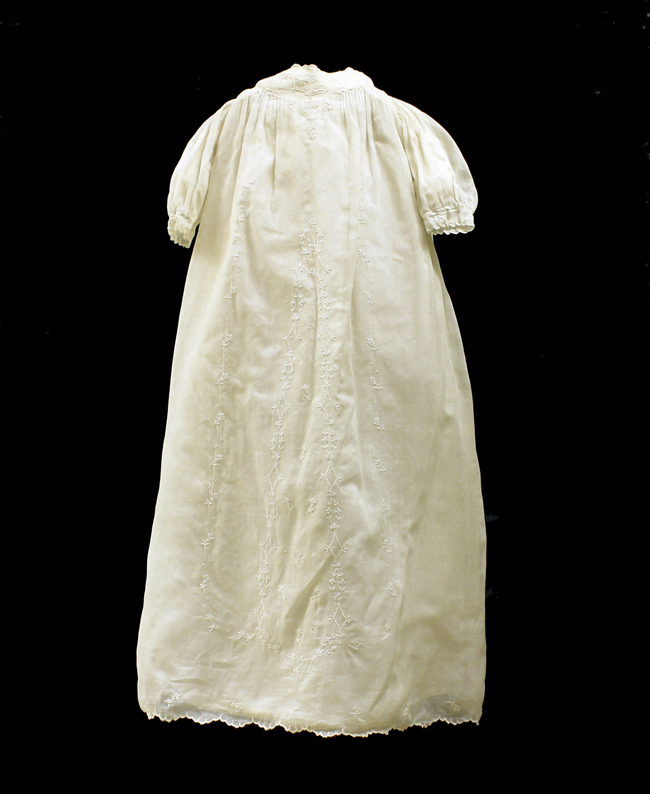 Joseph P. Kennedy's parents gave this christening gown to their son and his wife Rose Fitzgerald Kennedy, and it was worn by all of their children at their respective christenings.  It was made by Franciscan nuns in East Boston, and is decorated with stitching in the form of lilies-of-the-valley with a scalloped hem.
Born on May 29, 1917 at the family home on Beals Street in Brookline, Massachusetts, John F. Kennedy was christened a few weeks later at the nearby St. Aidan's Church. He was the first of three children born in the Beals Street house and was followed by sisters Rosemary and Kathleen. Family tradition states that the gown was used not only by the Kennedy siblings but also by President Kennedy's son John F. Kennedy, Jr. at his own christening in 1960.
A replica of the gown is kept on display in the nursery at the John F. Kennedy National Historic Site. The original is placed in storage for preservation reasons.