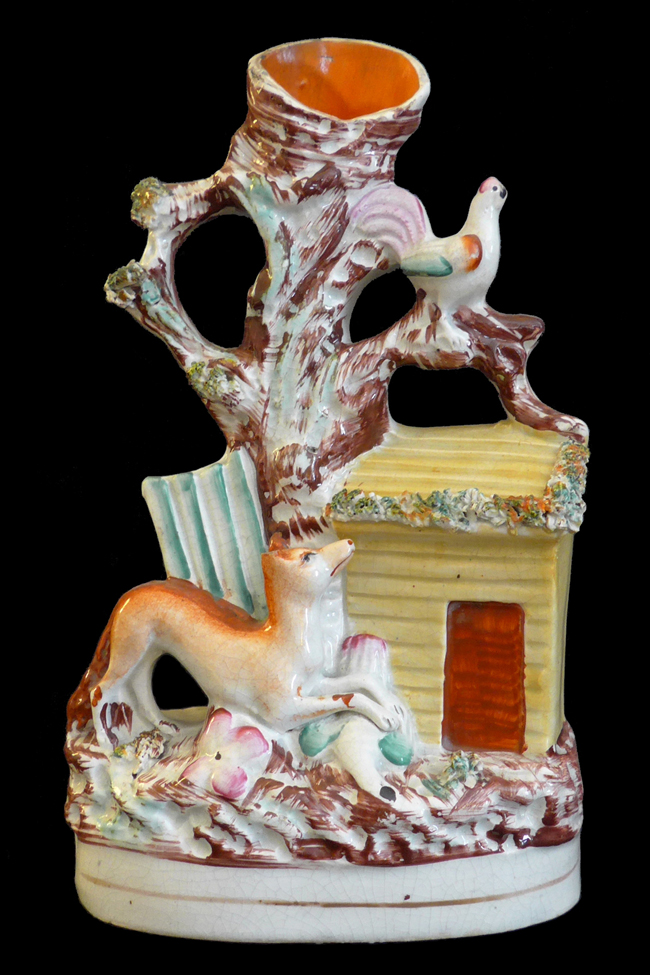 This ceramic figurine is one of a matched pair that sits upon a dresser in the upstairs guest bedroom of Joseph P. and Rose F. Kennedy's first home together.  It is a piece of Staffordshire pottery, so named because its place of manufacture is the Staffordshire region of England, roughly 110 miles northwest of London.
The piece is of a type called "spill vases". A spill vase was originally intended to hold tapers or "spills", thin wooden sticks or tightly curled strands of paper used to transfer flame from an existing fire to another combustible material such as a candle, or tobacco in a smoking pipe. Until cost effective matches began to be manufactured in the late 19th century spills were a more economical way of lighting things.
This vase, probably made in the late 19th or early 20th century and primarily intended as a decorative piece, features a fox looking upwards at a rooster perched in a tree above a chicken coop. It perhaps alludes to one of Aesop's Fables, that of The Fox, the Rooster, and the Dog. In the fable a fox concocts a false story in an attempt to deceive the rooster into coming down from the tree in order to eat it. The rooster turns the tables on the fox, which is then subsequently either scared off or seized and killed by the rooster's friend dog, the moral being that deceivers should expect to be deceived themselves. Staffordshire pottery pieces often featured such themes, as well as scenes drawn from country life, politics, or historic figures and events.
This piece belonged to the Kennedy family, but was not among the original furnishings of the Beals Street house. It was chosen by Mrs. Rose Kennedy as an appropriate piece with which to furnish the guest bedroom.