Talkin' Jazz with Fred Kasten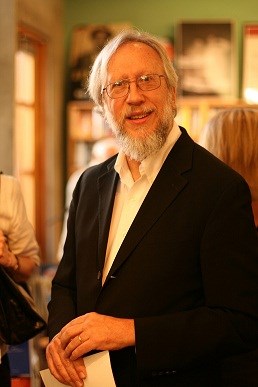 The New Orleans Jazz National Historical is proud to partner with WWNO (89.9 FM in New Orleans) to produce Talkin' Jazz with Fred Kasten. Talkin' Jazz is offered monthly live at the Old U.S. Mint. Each interview is approximately 8 minutes long and was produced by WWNO from the original footage captured live at the park. To hear more of WWNO's excellent coverage of New Orleans music and culture, please visit wwno.org/term/music.
Wessell Anderson
Wessell "Warmdaddy" Anderson is one of the top alto saxophonists in jazz today. A member of Wynton Marsalis's great late-1980s/early-90s septet — and longtime featured artist with the Jazz at Lincoln Center Orchestra.
Wendell Brunious
Wendell Brunious is one of New Orleans' most accomplished and versatile musicians. A top-notch trumpeter and flugelhornist, and engaging singer and front man, Brunious is well versed in a wide range of music: from early jazz, to many eras of pop, to R&B and bebop.
Herlin Riley
Herlin Riley is one of the world's finest drummers — the sort of fully engaged performer whose blend of passion, expertise and palpable joy is irresistible. He recently sat down with WWNO's Fred Kasten for the "Talkin' Jazz" interview series at the Old U.S. Mint, and talked about the profound role that family played in shaping his life in music.
Germaine Bazzle
Germaine Bazzle is one of New Orleans' most accomplished musicians — a musician whose instrument of choice is her voice. She has also exercised a profound effect on youngsters in Southeast Louisiana as a teacher, through a dozen years in Thibodeaux and an even longer tenure at Xavier Prep in New Orleans.
Steve Masakowski
Guitarist Steve Masakowski is one of New Orleans' finest instrumentalists, a creative player and virtuoso technique and a sensibility that is both modern and deeply informed by New Orleans tradition. He's also a first-rate composer; a longtime member of one of the great New Orleans bands, Astral Project; and an outstanding educator with a two-decade-plus tenure on the faculty at UNO.
Ellis Marsalis
Pianist Ellis Marsalis holds a richly deserved place in its upper echelons of New Orleans jazz history. His accomplishments as a musician and educator are of the highest order.Listen in on some of WWNO's Fred Kasten recent interview of Marsalis for the New Orleans Jazz National Historical Park's new "Talkin' Jazz" live interview series at the Old U.S. Mint, touching on topics such as his formative experiences growing up in New Orleans and the Jefferson Parish community of Shrewsbury.
Greg Stafford
WWNO's Fred Kasten interviews Gregg Stafford, one of the Crescent City's most talented, deeply-rooted and musically-committed trumpeters and vocalists whose rich mix of passion, expertise, energy and sense of humor always makes for good listening and happy audiences.
Dr. Michael White
Listen in on some of Fred Kasten's interview with clarinetist Dr. Michael White whose Original Liberty Jazz Band play authentic New Orleans traditional jazz as well as any ensemble on the planet. Their combination of deep knowledge of the tradition, top-notch musicianship, spontaneity, contemporary relevance and passion makes for an exhilarating listening experience - whether live or recorded.
Topsy Chapman
Topsy Chapman is one of New Orleans' finest singers, adept at gospel, blues, rhythm and blues and jazz. Her trio Solid Harmony— with daughters Yolanda Windsay and Jolynda Phillips — is one of the best, most soulful vocal harmony groups working today. It all started for Topsy Chapman on a farm in Kentwood, Louisiana — a farm where gospel music was raised right along with the cotton.
Last updated: April 14, 2015