Louis Armstrong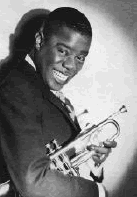 The People of Traditional New Orleans Jazz:
Louis "Satchmo" Armstrong

1901-1971
If music is the essence of the New Orleans Jazz National Historical Park, then people are the heart of our story.

New Orleans...
...a city that nurtured the creation of Jazz and Louis Armstrong. Both of them having incredible influence over each other.
According to Louis Armstrong, he was born to Mayann and William Armstrong on July 4, 1900. Raised by his grandmother, mother, and sister, he grew up amongst strong women and music. One of his earliest jobs and first exposure to performing, was selling coal for a local merchant by riding in the coal cart and playing a tin horn to attract customers.
Hanging out in the streets and honky tonks of New Orleans, Louis was awe-struck by the sounds of the horns and drums he heard there, and developed an adulation for the performers. Among the performers were Bunk Johnson and Joe Oliver who were so impressed with young Louis' attention they became his instructors and mentors. He carried the lessons he learned in New Orleans with him for the rest of his life.
Chicago...
...set the stage for Louis Armstrong to receive international recognition.
In 1922, he rode the train to Chicago to join the King Oliver Creole Jazz Band, led by his mentor and father-figure, Joe Oliver. The Creole Jazz Band was playing at the popular Lincoln Gardens Cafe, which catered to a prospering and growing African-American population. During this time, Louis' musicianship increased as did his reputation as a highly talented cornetist. He was first recorded in 1923 by Gennett Records while playing with the Creole Jazz Band. Okeh Records also recorded the band before Louis left for New York in 1924.
Joining a professional orchestra in the midst of the Harlem Renaissance, Louis continued to develop his music and added acting and comedy routines to his performances. He stayed in New York almost a year before he returned to Chicago.
Back in Chicago, Louis recorded again for Okeh records, this time with a new group, The Hot Five. He gathered three musicians he had played with in New Orleans: Kid Ory, Johnny Dodds and Johnny St. Cyr. Lil Hardin, his wife, was on the piano. Unrestrained by directors and arrangers, Louis' recordings with the Hot Five demonstrate his genius.
These recordings capture Louis playing with a range and technique that would challenge the better cornetists of they day. One of the new elements he added to the performances was scat, or the use of made-up words that complimented the melody. He also showcased instrumental solos in a way that was not previously practiced. Instead of each musician playing as part of a group, his musicians played their solos out front, with the others playing backup. This allowed the soloist more freedom in improvisation to the melodies and harmonies.
Click here to view our JAZZ Walk of Fame segment on Louis Armstrong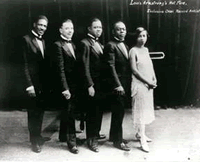 Louis Armstrong's Hot Five Louis' Chicago recordings and performances continued until 1929 when he voyaged back to New York with the hopes of performing on Broadway. However, his Broadway dreams were not realized. In fact the depression had so affected the New York music scene, he was struggling just to find a gig each night. In 1930 he left New York and traveled to California looking for work. Greeted by receptive audiences and popularity he stayed until 1931 and returned to Chicago. From Chicago he began to tour overseas. Ghana, Denmark, England, France and many other countries hosted Louis Armstrong and, his newly formed band,The Allstars. His international reputation knew no boundaries.
New York...

...became his second home away from New Orleans.

Louis moved to New York in 1943, when his fourth wife, Lucille, chose a modest house in Corona, Queens for the Armstrongs to call home. Louis was so impressed with their new home, he never moved again. He also never stopped performing. Up until the last year of his life, Louis Armstrong toured relentlessly, playing for anyone who would listen. And there were plenty who would listen. He recorded popular songs like "When It's Sleepy Time Down South", "Heebie Jeebies", and "West End Blues" dozens of times each. He was also featured in several motion pictures. The most famous was his performance with Barbara Streisand in "Hello Dolly". His career of musical performances and acting continued until he passed away at home on July 6, 1971.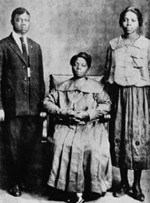 ---
Further Reading:
Many resources exist for information on the life and music of Louis Armstrong. Below is a selection of bibliographies. There are also numerous web sites devoted to him.
Bergreen, Laurence. Louis Armstrong: An Extravagant Life. New York: Broadway Books, 1997.
Brothers, Thomas. Louis Armstrong: In His Own Words. New York: Oxford University Press, 1999.
Horace Gerlach, editor. Louis Armstrong: Swing That Music. New York: Da Capo Press, 1993.
Giddins, Gary. Satchmo. New York: Da Capo Press, 1998.
Jones, Max and Chilton, John. Louis: The Louis Armstrong Story 1900-1971. London: Da Capo Press, 1971.
Note: This article contains information found in Louis Armstrong: An Extravagant Life written by Laurence Bergreen.


Last updated: February 23, 2015