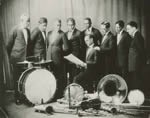 The All-American Music
A Chronology of New Orleans Jazz
Featuring the Arrowhead Jazz Band

The Park's mission is to preserve information about New Orleans' participation in the development of jazz. To spotlight the significant efforts of early New Orleans players, the National Park Service has produced this unique pair of CDs featuring a specially assembled group, the Arrowhead Jazz Band, named, appropriately, after the Park Service's familiar logo.
These CD's can be purchased from our bookstore
---
On Volume One, the Arrowhead Jazz Band plays 14 tunes that were originally recorded in New Orleans by New Orleans jazzmen during the jazz era. These hometown recordings are important aural documentations of the sounds heard in the city's parks, cafes, dance halls, cabarets, barrel houses, and hotel ballrooms.