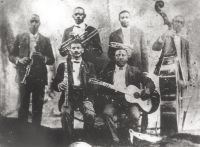 Even before jazz, for most New Orleanians, music was not a luxury as it often is elsewhere–it was a necessity. Throughout the nineteenth century, diverse ethnic and racial groups — French, Spanish, and African, Italian, German, and Irish — found common cause in their love of music. The 1870s represented the culmination of a century of music making in the Crescent City. During this time, the European classical legacy and the influence of European folk and African/Caribbean elements were merged with a popular American mainstream, which combined and adapted Old World practices into new forms deriving from a distinctive regional environment. Just after the beginning of the new century, jazz began to emerge as part of a broad musical revolution encompassing ragtime, blues, spirituals, marches, and the popular fare of "Tin Pan Alley." It also reflected the profound contributions of people of African heritage to this new and distinctly American music.
The early development of jazz in New Orleans is most associated with the popularity of bandleader Charles "Buddy" Bolden, an "uptown" cornetist whose charisma and musical power became legendary. After playing briefly with Charley Galloway's string band in 1894, Bolden formed his own group in 1895. During the next decade he built a loyal following, entertaining dancers throughout the city (especially at Funky Butt Hall, which also doubled as a church, and at Johnson and Lincoln Parks). In 1906 he collapsed while performing in a street parade. The following year he was institutionalized at the state sanitarium at Jackson for the remainder of his life.
Dancing had long been a mainstay of New Orleans nightlife, and Bolden's popularity was based on his ability to give dancers what they wanted. During the nineteenth century, string bands, led by violinists, had dominated dance work, offering waltzes, quadrilles, polkas, and schottisches to a polite dancing public. By the turn of the century, an instrumentation borrowing from both brass marching bands and string bands was predominant: usually a front line of cornet, clarinet, and trombone with a rhythm section of guitar, bass, and drums. Dance audiences, especially the younger ones, wanted more excitement. The emergence of ragtime, blues and later, jazz satisfied this demand. Increasingly, musicians began to redefine roles, moving away from sight-reading toward playing by ear. In contrast to society bands such as John Robichaux's (representing the highly-skilled "Frenchmen" or Creoles of color), bands such as Bolden's, Jack Laine's Reliance, or the Golden Rule worked out their numbers by practicing until parts were memorized. Each member could offer suggestions for enhancing a piece of music, subject to the approval of the leader. Gradually, New Orleans jazzmen became known for a style of blending improvised parts–sometimes referred to as "collective improvisation". It appealed to younger players and dancers alike because it permitted greater freedom of expression, spontaneity, and fun.
After Bolden, several bands competed for control of the "ratty" (as it was called) music market. Trombonist Frankie Dusen took over Bolden's group renaming it the Eagle Band after a favorite saloon. Cornetist Manuel Perez had the Imperial Orchestra–a dance band featuring "Big Eye" Louis Nelson Delisle on clarinet. He also led the Onward Brass Band in a looser, more improvisational direction. Other dance bands, such as the Olympia, Superior, and the Peerless, began to play the exciting sound of jazz. "Papa" Laine's Reliance bands continued to attract young white musicians who wanted to play jazz. However, the band which best represented the transition from Bolden's early experiments to the classical jazz bands of the 1920's was Kid Ory's Creole band.