Early Band Leaders in New Orleans Jazz
The enculturation of jazz in New Orleans depended strongly on a tradition of itinerant bandleaders. That tradition came to maturity during the early part of the twentieth century. A strong heritage of street music, a solid marching tradition, and a proclivity for parades resulted in a priority being placed on the learning of a band instrument as a fundamental aspect of a child's musical education. From this tradition, jazz bands derived the wind and percussion personnel they required. Following are some of the individuals who stood out to become the leaders of these early bands.

Charles "Buddy" Bolden, cornet (1877-1931)
Charles "Buddy" Bolden's career dates to perhaps the very earliest formative years of jazz. Many consider this native New Orleanian to have been the first actual "jazzman." His bands performed around the turn of the century at historic Lincoln Park as well as at other places around town such as Funky Butt Hall and Odd Fellows Hall. Active during the time of Jim Crow, Bolden personifies the movement of black musical activity into the Uptown regions of the city during the last quarter of the nineteenth century. He led his own band until he was disabled by mental illness in 1907, after which he remained hospitalized for the rest of his life.
John Robichaux and Orchestra (1866-1939)
This native of Thibodaux, Louisiana (southwest of New Orleans) apparently began his career at age 25 playing bass drum in the city's Excelsior Brass Band (ca. 1891). Little documentation exists concerning his musical training or involvement prior to that time. Robichaux began leading his own ensemble in 1893, and became the most continuously active dance-band leader in the Crescent City from that year until his death.
The Robichaux Orchestra played Lincoln Park and other spots as a rival of Charles "Buddy" Bolden's band. They also served as the pit orchestra at the city's black vaudeville showplace, the Lyric Theatre, for more than a decade before it burned in 1927. That establishment provided the theme for the hit musical production, "One Mo' Time." "Professor" Robichaux's ensemble also worked the city's historic La Louisiane Restaurant.
Joseph "King" Oliver, cornet (1885-1938)
Joseph "King" Oliver arrived in New Orleans sometime in his childhood years when his family migrated in from Abent, Louisiana (a community located in the city's immediate hinterland). In 1918, after learning and working in New Orleans with such people as Henry Allen, Sr., Richard M. Jones, Edward "Kid" Ory, and his own band, he went to Chicago to join a band led by fellow New Orleanian and clarinetist Lawrence Duhe. While playing with Duhe, Oliver also "moonlighted" in Chicago for a time in a band led by another New Orleanian, bassist Bill Johnson. A year or so after his arrival in Chicago, he took over leadership of the Duhe ensemble. Following a brief stint in San Francisco, Oliver returned to Chicago to lead a band at the Lincoln Gardens. In 1921 Louis Armstrong joined Oliver in Chicago. Known principally for his eight-piece ensemble, the Creole Jazz Band, Oliver fielded a larger, jump-band style ensemble called the Dixie Syncopaters in the mid-to-late 1920's. That group worked for a couple of years at the Plantation Inn in Chicago subsequent to also working dates briefly in Milwaukee and St. Louis (John Chilton's Who's Who of Jazz). Ultimately however, Oliver's larger ensemble would enjoy considerably less success than his earlier group.
Tom Brown, trombone (1888-1958)
Tom Brown was leader of the first New Orleans jazz band to go north and was the first known to advertise his band as a "jass" band. This native New Orleanian took his group to work a historic date at Chicago's landmark Lamb's Café in 1915. That engagement blazed the trail for many Crescent City ensembles that would subsequently invade Chicago. Original Dixieland Jazz Band (ODJB) clarinetist Larry Shields actually came from Brown's band before joining ODJB. Having toured and recorded with the Ray Miller and Yerkes bands in the 1920's, Brown recorded again late in his career with trumpeter Johnny "Wiggs" Hyman's band on the G.B.H. Southland label.
Brown was a member of a musical family. He began playing the violin at age 9. Learning to play trombone while working with "Papa" Jack Laine's Reliance Band during the first decade of the twentieth century, Brown led his own bands from 1910 forward. He was adept in theatre venues as well as in nightclub and dance hall settings. His Five Rubes worked the vaudeville theater circuit on the East Coast following his departure from the Lambs Café in 1916.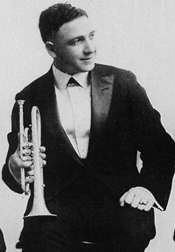 Dominic "Nick" LaRocca, cornet (1889-1961)
Dominic LaRocca ultimately became leader of the Original Dixieland Jazz Band (ODJB). Initially named Stein's Dixie Band, LaRocca apparently wrestled leadership of the group from drummer Johnny Stein, and after a couple of personnel changes, he led the band into the New York studios of Columbia and Victor records successively in early 1917. Under their new name, the ODJB recorded the first commercially issued jazz recordings ever made. Credited as the composer or co-composer of many jazz repertory standards of the early period, LaRocca purveyed the ensemble's self-appointed identity as the inventors of jazz. This was especially true after he regrouped for an abortive comeback attempt in the late-1930's.
The ODJB disbanded in the mid-1920's following persistent personality clashes within its membership. LaRocca despaired of the prospect for a meaningful comeback after a few years of trying a decade later, and retired once again in 1938 to become a building contractor.
Last updated: September 9, 2019