Things To Do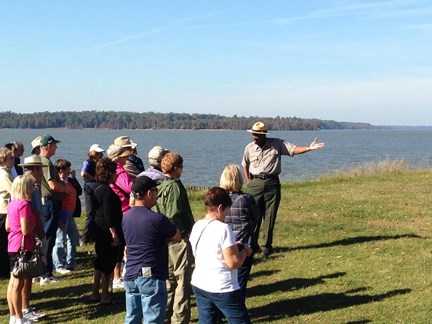 You can explore Jamestown in many ways. If you are the athletic type you can walk, run or bike the three/five mile loop drive of the island. For the nature watcher there several hundred species of birds including Bald Eagle, of which we have two nesting pair on the island, mammals like raccoon, opossum, mink and red tail fox, and reptiles and amphibians such as turtles, lizards, snakes and frogs.
For the history buff we have the beginning of English colonial America at Jamestown. Because of its strategic location Jamestown was utilized during the American Revolutionary War, the battle of Green Spring took place only a short distance from Jamestown. During the American Civil War Confederate forces occupied Jamestown and fortified it with no less that five earthworks. After the confederates abandoned Jamestown Union forces took it over. So Jamestown has a military history spanning two-hundred years.
As a historical park our guided tours concentrate on America's beginnings with this First Permanent English Settlement at Jamestown. From these tours visitors can learn many little know facts about America's beginnings; from times of starvation and cannibalism to times of industry and prosperity; from times of martial law and harsh punishments to times of representative government; and from times of a work force of indentured servants to the arrival of the first Africans and the road to slavery. These and many more things the visitor can experience.



Last updated: May 30, 2015