Pets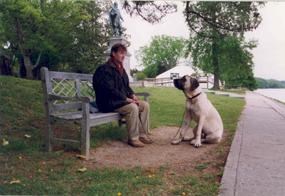 American's love their pets. They are a part of the family. With this in mind Colonial National Historical Park – Historic Jamestowne does allow pets in the park. However, there are a few rules to go by.
● Pets are welcome but must be maintained on a leash
● Pets are allowed on the Historic Site and Island Loop Drive but not allowed in the Visitor Center/museums (seeing eye dogs/service animals excepted).
● You are expected to clean up after your pet. Remember to bring the "poop scooper."
● Do not allow your pet to chase or annoy any of the natural wildlife. Keep in mind that the natural wildlife is indeed wild and an encounter can lead to serious injury of your pet.
Last updated: September 12, 2022