Glasshouse Gift Shop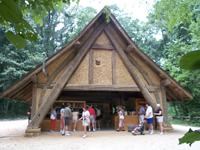 The Glasshouse and Glasshouse Gift Shop are operated by Eastern National, a not-for-profit "cooperating association" that supports the National Park Service. Visitors can watch as glass artisans make green glass wine bottles, similar to those found at Jamestown, and other items. These include vases, pitchers, candleholders, wine glasses and paper weights, just to name a few. These items are available for purchase and a portion of all sales comes back to the National Park Service. So any purchase helps support the Glassblowing demonstrations and the National Park Service at Historic Jamestowne.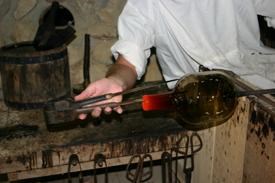 Today the glass furnaces are heated by natural gas, rather than by wood as in 1608, but modern glassblowers use tools and techniques similar to those used by the early glassblowers. However, 17th century glass manufacturing techniques do not prepare the glass for modern-day use. Microwave ovens, automatic dishwashers and hot liquids may cause our production glassware to crack, break and shatter. All of our glassware carries the following warning:
DO NOT USE THIS GLASSWARE IN THE AUTOMATIC DISHWASHER OR MICROWAVE OVEN. IT IS NOT FOR USE WITH HOT LIQUIDS
.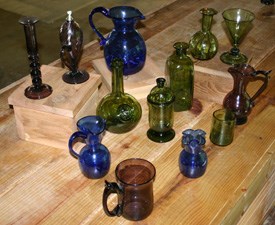 Explore our exquisite collection of hand-crafted glassware produced at the Jamestown Glasshouse.. Each piece of green glass was hand blown at Historic Jamestowne, Virginia, only a few yards from the site on which English Colonist first made glassware in 1608. Fragments of the original green glass have provided the key to proper color and composition, so that the glass has the same appearance today, as it did originally. Each piece is unique and one of a kind, as no two pieces are identical. There is a distinctive mark on the bottom of the glass which is called the pontil mark and is a sign of hand blown glass.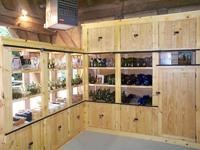 You may purchase glass items produced in our glasshouse through on-site sales, regular mail, phone and e-mail. Hours of operation are 9:00 a.m. to 5:00 p.m. daily, except Thanksgiving Day, Christmas Day and New Years Day when Historic Jamestowne is closed. To place an order or make inquires contact: Jamestown Glasshouse, 1368 Colonial Parkway, Jamestown, Virginia 23081, Phone: (757) 229-2437, FAX: (757) 229-7531 or e-mail: jamestownglasshouse@easternnational.org
For those interested in a more complete catalog of glassware for purchase you can access the Eastern National website store and order on-line there.
For more information about Eastern National and their support of the National Park Service use this Eastern National Link.
Last updated: November 23, 2022