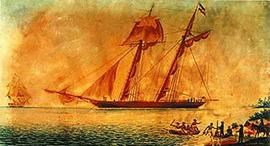 Come join the National Park Service and Preservation Virginia as we commemorate the 1619 arrival of the First African's to English North America.
On August 14, 2011, at 2:00 p.m. in the Historic Jamestowne Visitor Center Dr. Natalie S. Robertson, noted author and Associate Professor at Hampton University will comparatively discuss the slave trade's legal and illegal periods using the arrival of the first Arfircans into Jamestown, Virginia and the smuggling of the last Africans into Mobile, Alabama as backdrops.
Few people today realize that the transatlantic slave trade consisted of both a legal period and an illegal one that began as early as 1794. Despite statutory prohibitions against slave smuggling, American citizens continued to smuggle African captives into the United States up to and beyond the threshold of the Civil War.