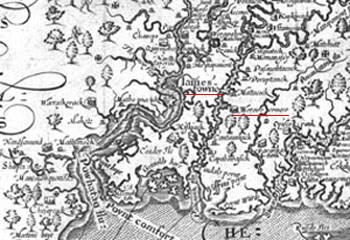 Not much is known about this memorable woman. What we do know was written by others, as none of her thoughts or feelings were ever recorded. Specifically, her story has been told through written historical accounts and, most recently, through the sacred oral history of the Mattaponi. Most notably, Pocahontas has left an indelible impression that has endured for more than 400 years. And yet, many people who know her name do not know much about her.
The Written History
Pocahontas was born about 1596 and named "Amonute," though she also had a more private name of Matoaka. She was called "Pocahontas" as a nickname, which meant "playful one," because of her frolicsome and curious nature. She was the daughter of Wahunsenaca (Chief Powhatan), the mamanatowick (paramount chief) of the Powhatan Chiefdom. At its height, the Powhatan Chiefdom had a population of about 25,000 and included more than 30 Algonquian speaking tribes - each with its own werowance (chief). The Powhatan Indians called their homeland "Tsenacomoco."
As the daughter of the paramount chief Powhatan, custom dictated that Pocahontas would have accompanied her mother, who would have gone to live in another village, after her birth (Powhatan still cared for them). However, nothing is written by the English about Pocahontas' mother. Some historians have theorized that she died during childbirth, so it is possible that Pocahontas did not leave like most of her half-siblings. Either way, Pocahontas would have eventually returned to live with her father Powhatan and her half-siblings once she was weaned. Her mother, if still living, would then have been free to remarry.