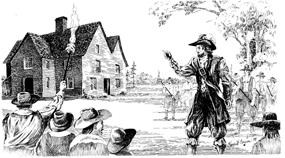 Bacon's Rebellion was probably one of the most confusing yet intriguing chapters in Jamestown's history. For many years, historians considered the Virginia Rebellion of 1676 to be the first stirring of revolutionary sentiment in America, which culminated in the American Revolution almost exactly one hundred years later. However, in the past few decades, based on findings from a more distant viewpoint, historians have come to understand Bacon's Rebellion as a power struggle between two stubborn, selfish leaders rather than a glorious fight against tyranny.
The central figures in Bacon's Rebellion were opposites. Governor Sir William Berkeley, seventy when the crisis began, was a veteran of the English Civil Wars, a frontier Indian fighter, a King's favorite in his first term as Governor in the 1640's, and a playwright and scholar. His name and reputation as Governor of Virginia were well respected. Berkeley's antagonist, young Nathaniel Bacon, Jr., was actually Berkeley's cousin by marriage. Lady Berkeley, Frances Culpeper, was Bacon's cousin. Bacon was a troublemaker and schemer whose father sent him to Virginia in the hope that he would mature. Although disdainful of labor, Bacon was intelligent and eloquent. Upon Bacon's arrival, Berkeley treated his young cousin with respect and friendship, giving him both a substantial land grant and a seat on the council in 1675.
Bacon's Rebellion can be attributed to a myriad of causes, all of which led to dissent in the Virginia colony. Economic problems, such as declining tobacco prices, growing commercial competition from Maryland and the Carolinas, an increasingly restricted English market, and the rising prices from English manufactured goods (mercantilism) caused problems for the Virginians. There were heavy English losses in the latest series of naval wars with the Dutch and, closer to home, there were many problems caused by weather. Hailstorms, floods, dry spells, and hurricanes rocked the colony all in the course of a year and had a damaging effect on the colonists. These difficulties encouraged the colonists to find a scapegoat against whom they could vent their frustrations and place the blame for their misfortunes.
The colonists found their scapegoat in the form of the local Indians. The trouble began in July 1675 with a raid by the Doeg Indians on the plantation of Thomas Mathews, located in the Northern Neck section of Virginia near the Potomac River. Several of the Doegs were killed in the raid, which began in a dispute over the nonpayment of some items Mathews had apparently obtained from the tribe. The situation became critical when, in a retaliatory strike by the colonists, they attacked the wrong Indians, the Susquehanaugs, which caused large scale Indian raids to begin.