A Changing Landscape - panel six of the Chesapeake Bay Gateways Network exhibit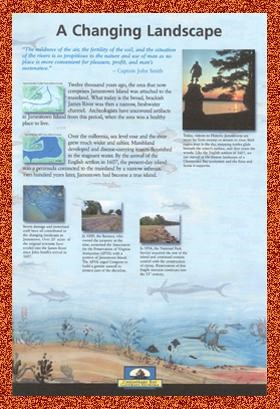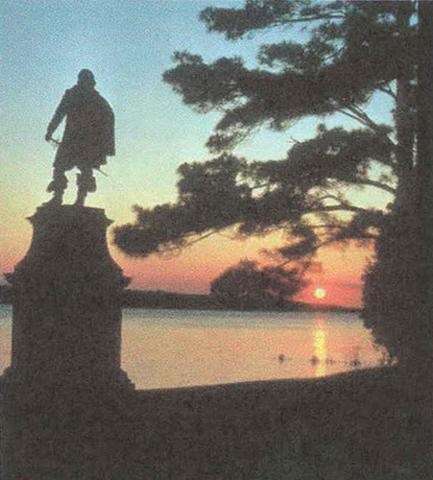 "The mildness of the air, the fertility of the soil, and the situation of the rivers is so propitious as to the nature and use of man as no place is more convenient for pleasure, profit, and man's sustenance."
- Captain John Smith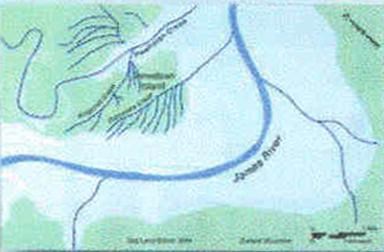 Twelve thousand years ago, the area that now comprises Jamestown Island was attached to the mainland. What today is a broad, brackish James River was then a narrow, freshwater channel. Archeaologists have uncovered artifacts on Jamestown island from this period, when the area was a healthy place to live.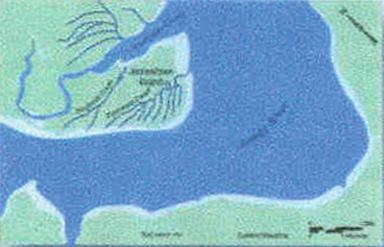 Over the millennia, sea level rose and the river grew much wider and saltier. Marshland developed and disease-carrying insects flourished in the stagnant water. By the arrival of the English settlers in 1607, the present-day island was a peninsula connected to the mainland by a narrow isthmus. Two hundred years later, Jamestown had become a true island.
Storm damage and motorized craft have all contributed to the changing landscape at Jamestown. Hundreds of acres have eroded into the James River since John Smith's arrival in 1607.
In 1889, the Association for the Preservation of Virginia Antiquities (APVA) received a portion of Jamestown Island from its present owners. The APVA urged Congress to build a granite seawall to protect part of the shoreline.
Last updated: March 31, 2012