Portage Lakefront and Riverwalk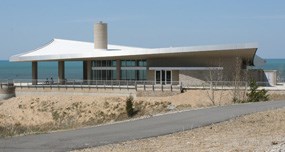 Portage Lakefront and Riverwalk, opened October 2008, is the newest area of the national lakeshore available for visitor enjoyment. The redevelopment of the site, formerly used by a steel corporation as settling ponds for industrial byproduct and a sewage treatment facility, is a successful model of brownfield reclamation between public and private groups.
Today, visitors can enjoy easy access to the lakefront and beach, trails that highlight dune succession and Burns Waterway, an accessible fishing pier, and a restored 900 foot breakwater. A 3,500 square foot public pavilion includes restrooms, a seasonal snack bar and a glass walled classroom/meeting space.
The popular location is open daily, sunrise to dusk. Year round, the location is a great place to view the ever changing seasons along Lake Michigan and watch dramatic weather and clouds build over the lake. It's an easy location to watch for migrating birds in the spring and summer, and observe shelf ice that forms along the beach edge in the winter. (Keep in mind that walking on shelf ice is dangerous). During the busy summer season, the 125 vehicle parking lots are often full by mid-morning.
All facilities meet the requirements of the Americans with Disabilities Act. The riverwalk has stair access from the south parking area and trail access from the north parking area. Across the road from the waterway, a paved accessible trail connects the south parking lot with the northern facilities. Observe dune plant succession as you stroll along the restored lagoons. The pavilion has accessible restrooms and is a Gold LEED certified building. LEED stands for Leadership in Energy and Environmental Design and is a program of the U.S. Green Building Council. The public facilities were designed and developed to minimize their impact on the reclaimed landscape.
The land, buildings, and facilities at the site are owned by the National Park Service and operated in partnership with the City of Portage. Environmentally affiliated groups can reserve the space for classes or meetings by contacting the National Park Service at 219-395-1644. A Special Use Permit (non-refundable $65 application processing fee) is required, along with proof of liability insurance.
Directions from U.S. Highway 20: Follow SR249 north and take the bridge over U.S. 12 towards the U.S. Steel and Precoat Metals businesses adjacent to the lakefront near Portage, IN. Turn left at the stop sign and cross over Burns Waterway. Once over the waterway, turn immediately right and head north, towards the lake, passing the entrance sign for Portage Lakefront and Riverwalk. Park only in public designated parking spots and help protect the fragile dune ecosystem along the roadside.
Last updated: September 27, 2023