Indiana Dunes Outdoor Adventure Festival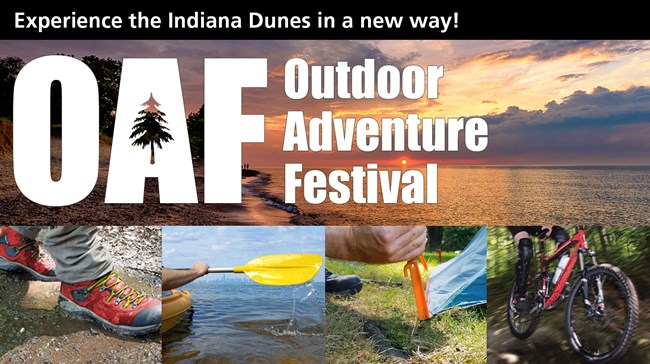 Spend the weekend in nature at the
Indiana Dunes Outdoor Adventure Festival
. The festival starts on Saturday, September 9th and continues through Sunday, September 17th. More than 60 events will take place over the nine days at parks and preserves throughout Northwest Indiana. Events include hiking, paddling, biking, geo-caching, photography, birding, and many more events for visitors of all ages and activity levels. For the list of programs, times, and locations, and other information, visit the festival's website at
www.dunesoutdoorfestival.com
. Please note the time and starting location of each event. There is no charge for the festival and no pre-registration is required. The national park will not charge an entrance fee on Saturday and Sunday, September 9th and 10th. The state park will charge a daily per car entrance fee of $7 in-state / $12 out-of-state.
On Saturday, September 16th and Sunday, September 17th from 12:00 pm to 4:00 pm, visit the national park's Chellberg Farm, for our
Chellberg Farm
celebration. This family-friendly event features seasonal fall activities and demonstrations including cooking apples down to make applesauce and apple butter, making apple cider, and even fermenting them into apple vinegar. The historic farmhouse will be open to explore and to learn about how farmers lived in the early 1900s. Visit the farm's resident cows, chickens, and turkeys while admiring the garden. You can even help feed the animals each day at 4:30 pm. There will also be food venders, musical groups, and live entertainment. Wagon rides will be available for a suggested donation to the Friends of Indiana Dunes to help support the farm.
Other weekend festivities include
Leon's Obstacle Course Race
from 9:30 am to 2:00 pm on Sunday, September 10th. There will be a 5K and 10K race over obstacles placed throughout the trails at West Beach in the Indiana Dunes National Park. The Leon's American Race Series helps support U.S. military, veterans, injured veterans, first responders and law enforcement. Register for the race at
www.leonstriathlon.com
.
Come out and see why Northwest Indiana is such an amazing outdoor place!
Last updated: February 14, 2023