White-tailed Deer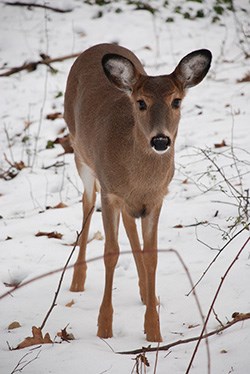 White-tailed deer (Odocoileus virginianus), are the largest herbivore found at Indiana Dunes National Lakeshore. Deer live throughout the park and keen-eyed visitors may spot them any time of day.
A low number of predators and the extirpation of others, have contributed to an over population of deer. An overabundance can become a negative influence on the ecosystem. Sensitive vegetation, deer health, and other wildlife are at risk when a population is left unchecked.
Deer are browsing on nearly all vegetation within reach including rare plants and wildlife habitat. Indiana Dunes National Lakeshore has 123 state-listed plant species and one is also federally listed. In addition, about 113 species of birds are considered regular nesters at the national lakeshore and require plant life. Managing the deer population is important to maintaining a healthy park for all plants, animals, and visitors.
Use caution when driving park roads as deer may be browsing near roadsides.
Last updated: January 3, 2018