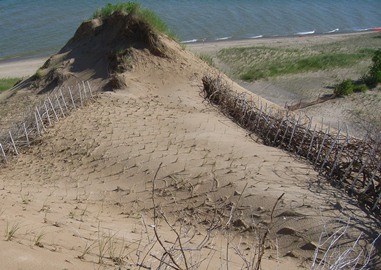 Mount Baldy is a 140-foot sand dune at the southern tip of Lake Michigan, lying within the eastern end of Indiana Dunes National Lakeshore. The dune began forming some 4000 years ago and is continually changing as a result of natural factors. During the last 175 years, anthropogenic, or human caused influences have greatly impacted sand movement at Mount Baldy, causing the dune to move inland at an unnatural and alarmingly fast rate.
Resource managers have initiated a multi-pronged effort to restore the dune and slow its landward migration. Efforts include:
Installing wind blocks
Re-routing select trails
Restricting visitor access
Installing signs
Public education
Planting dune-stabilizing vegetation
Additionally, park managers support beach nourishment activity.
Strategic monitoring efforts are underway to track morphological changes on Mount Baldy and to assess the effectiveness of restoration strategies.