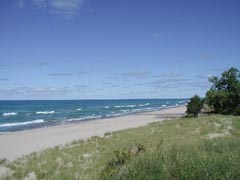 Indiana Dunes National Lakeshore is a treasure of diverse natural resources located within an urban setting. The national lakeshore features communities that have both scientific and historic significance to the field of ecology. In addition, four National Natural Landmarks and one National Historical Landmark are located within its boundaries.
The park is comprised of over 15,000 acres of dunes,
oak savannas
, swamps, bogs, marshes, prairies, rivers, and forests. It contains 15 miles of Lake Michigan shoreline spanning the distance from Gary to Michigan City. Lake Michigan is part of the largest complex of freshwater lakes in the world. The national lakeshore's beaches are the park's most significant recreational resource.
Immediately inland from the beaches, sand dunes rise to almost 200 feet in a series of ridges, blowouts, and valleys. Extensive wetlands fill many depressions between the dune ridges. The national lakeshore preserves an important remnant of a once vast and unique environment, resulting from the retreat of the last great continental glacier some 14,000 years ago. The park landscape represents at least four major successive stages of historic Lake Michigan shorelines, making it one of the most extensive geologic records of one of the world's largest, fresh water bodies.
The biological diversity within the national lakeshore is amongst the highest per unit area of all our national parks. Over 1,100 flowering plant species and ferns make their homes here. From predacious bog plants to native prairie grasses and from towering white pines to rare algal species, the plant diversity is rich.
The wildlife is also diverse. A wide variety of habitats coupled with the moderating effects of Lake Michigan make the region an ideal home for hundreds of animal species. The park is renowned for its bird life; more than 350 species have been observed here. Located on the southern tip of Lake Michigan, the national lakeshore is an especially important feeding and resting area for migrating land and water birds. One area within the national lakeshore has been set aside especially for its value as a great blue heron rookery.