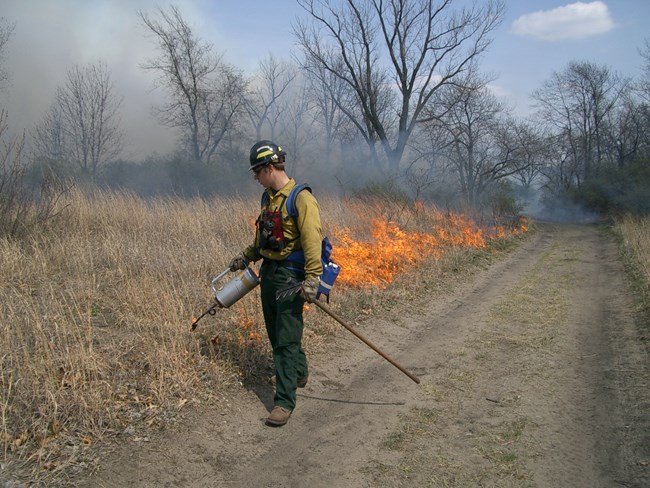 Indiana Dunes National Lakeshore was established by Congress in 1966. By that time, people had already made many changes to the national lakeshore's natural areas. Many white pines were logged in the 1830s and 40s. Farmers started moving into the region in the late 1800s. Around 1900 industry came into Gary and East Chicago, just west of the national lakeshore. By the 1930s, residential communities sprang up and escalated in the 1950s with the post-war economic boom. The late 1950s and early 1960s brought the development of a coal-fired power plant and a steel mill into the midst of extensive natural sand dunes and wetlands. With each of these changes came impacts to the environment.
Logging changed the species composition of the forest and caused erosion in the dunes. The farming movement resulted in the drainage of wetlands, the introduction of exotic species, and the extirpation of some predatory animals. Subsequent residential development accelerated the ditching and drainage of wetlands, the modification of land use, and the addition of large numbers of structures. Industrial expansion resulted in similar impacts as well as an increase in air pollution. As development increased, so did efforts to suppress naturally occurring fires. All of these impacts affect the way the national lakeshore is managed today. Resource managers are mitigating the damage done in the past.
Water Quality Monitoring
The national lakeshore features several swimming beaches along the shore of Lake Michigan. These beaches are sometimes impacted by high levels of bacteria after heavy rainfalls. High bacteria levels can be a threat to human health. The national lakeshore monitors the water quality at its beaches on a regular basis during the swimming season, posting warning signs noting high bacteria counts on affected beaches.