Land Acquisition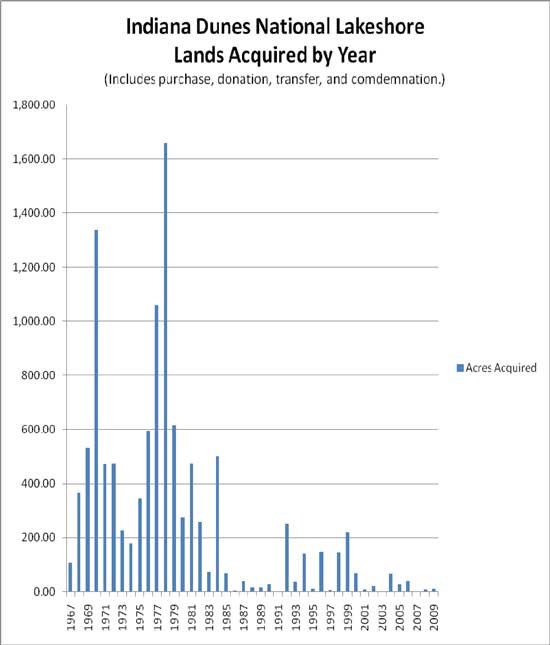 Questions and Answers on Land Acquisition in Indiana Dunes National Lakeshore - August 2009

1. Is the National Park Service (NPS) still buying land and/or houses as part of the park?
Yes. The National Park Service will purchase private property within the national lakeshore subject to available funds.
2. Does the NPS use condemnation to acquire property?
Not at present. The NPS has acquired property by condemnation in the past, but no property has been acquired by condemnation in more than 12 years. At present, the NPS is acquiring land only from willing sellers.
3. My house is outside the park boundaries. Will you buy it if I want to sell it?
No. The NPS cannot purchase property outside the established park boundaries. Park boundaries are established by Congress.
4. My property is outside the boundary, but abuts the boundary. Can I give it to you?
Yes. The NPS can accept property outside the boundary by donation if the property directly abuts the park. We cannot buy it.
5. Is there a tax benefit to donating my property?
There is often a tax benefit to donating land to the National Park Service. Tax conditions related to your situation would be something you would want to explore with your lawyer or accountant.
6. If my property is in the boundary and I want to sell it who do I contact?
Real estate management is handled by the National Park Service's regional office in Omaha, Nebraska. If you are interested in selling your property you should first contact the national lakeshore directly by calling 219-395-1699. We can then direct you to the appropriate office in Omaha.
Last updated: April 10, 2015