Historic Landmarks Leasing Program at Indiana Dunes National Park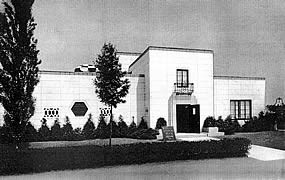 In 1993, Indiana Landmarks placed the Century of Progress houses on the "Ten Most Endangered Sites in Indiana" list. Indiana Landsmarks, a not-for-profit organization, is the largest statewide preservation group in the United States. Their mission is to save, protect, and restore places of historical and architectural significance.

Indiana Landmarks assists individuals, organizations, and communities in preserving and revitalizing endangered landmarks through education, advocacy, and financial support. Their intent is to enrich contemporary life and leave a legacy of historic landmarks.
To fulfill our respective missions, and to ensure the long-term preservation of the Century of Progress houses, Indiana Dunes National Park and Indiana Landmarks entered into a partnership in 1996 to protect and maintain the houses through a residential leasing program. Indiana Landmarks subleases the houses to families who have previous experience in historic preservation and who can show the financial capability to complete the projects. The rehabilitation of the houses must be completed following the Secretary of the Interior's standards.

Historic leasing programs are not uncommon in the National Park Service (NPS). To protect and maintain historic buildings when federal funding is limited, or is not available, many NPS sites manage their buildings through leasing programs. Similar programs can be found at Cape Cod, Cuyahoga National Park, and the Persidio in San Francisco.

Under the guidance of the national park and Indiana Landmarks, the historic leasing program has evolved and grown. The program now includes four additional historic sites, and has been expanded to include alternative building uses. For example, one site is the location of the Field Station Cooperative, a non-for-profit organization that offers environmental education programs for preschool-age children. In the future, the national park and Indiana Landmarks hope to include additional historic sites in the leasing program.

Many of the historic sites included in the leasing program, including the Century of Progress houses, will be opened at least one day a year for public visitation upon completion of the rehabilitation projects.
Last updated: February 4, 2022