2016 Artist-in-Residence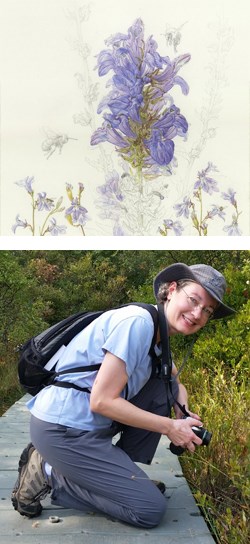 2016 Artist-in-Residence, Gillian Harris
Gillian's detailed drawings and watercolors bring together her love of creating art with her passion for natural science, particularly botany. Gillian makes her home between Bloomington and Nashville, IN, where she is an inveterate hiker and leader of nature walks in the area's forested hills and hollows. She is an Indiana Master Naturalist, and writes a monthly column, "The Wild Garden," for the Bloomington newspaper. She was artist-in-residence at T.C. Steele State Historic Site in Brown County, Indiana two springs ago and her desire to revisit the Dunes, where she had worked as a teenager in the Youth Conservation Corp, led her to apply for the AIR program here.

Since her first job as a natural science illustrator--contributing to a multi-volume animal encyclopedia-- Gillian has illustrated two garden books, one of which she co-wrote, and has been part of a number of international juried botanical and natural science art exhibits. She has also done illustrations for the Smithsonian National Zoo, and her work has appeared in botanical gardens throughout the U.S., as well as Kew Gardens in the U.K. She currently shows her original artwork, as well as her "Flora and Fauna of Indiana" notecard series, at Hoosier Artist Gallery in Brown County, Indiana.

Gillian takes great pleasure in the exchange between her art and natural history interests: while her naturalist's knowledge informs her work, the act of drawing or painting a plant, animal, or other subject leads her to know it more deeply than mere observation ever could.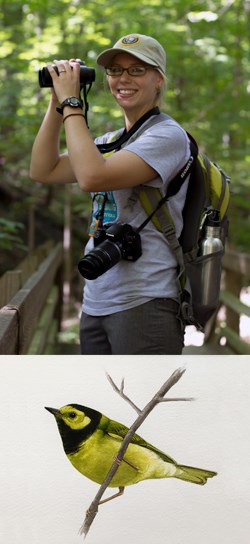 2016 Artist-in-Residence, Kristina Knowski
Kristina is a watercolorist depicting primarily avifauna and is best known for her portfolio of extinct bird species. The natural world is her inspiration, drawing from the existing beauty of our environment. As an avid birder, Kristina prefers to work from life and spends most of her time sketching and researching species in the field. In working with extinct species, she visits the Bird Collections of the Field Museum and Peggy Notebaert Nature Museum to study from skins. She enjoys using observation, anatomical references, and specimens to examine these species with an acute attention to detail. By exploring these birds in both life and in death, she hopes to bring a remembrance and sense of dignity to these lost species.

All works are watercolor on paper. A planned composition is drawn first, followed carefully by several layers of transparent paint. The extant, or existing, bird paintings are usually more illustrational, creating an optimum version of the species similar to that of a field guide. These are made as a formal study of the bird and keeping the background minimal. The extinct species, on the other hand, have a more uninhibited approach. Backgrounds are intentionally loose and ambiguous, contrasting representation with abstraction. Inevitably, these paintings are designed to express strong anecdotal value and often play on the history of the bird and it's relationship with mankind.

Since graduating Valedictorian from the American Academy of Art in Chicago in 2012, Kristina has participated in numerous shows in Chicago and surrounding states, including Animalier: The Animal in Contemporary Art, Apocalypse 2012: Genesis 2013, and Facing Extinction. Her most notable solo show was at the Peggy Notebaert Nature Museum in Dreams of Martha, in conjunction with the 100th year anniversary of the extinction of the Passenger Pigeon.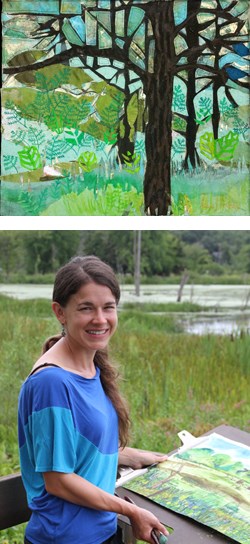 2016 Artist-in-Residence, Susan Dorsey
Susan Dorsey graduated from the Maryland Institute College of Art while studying painting. She currently works as an Education Coordinator at the Walters Art Museum. She collaborates with schools throughout Baltimore City and Maryland to engage with the museum's collection of world art from pre-dynastic Egypt to 20th-century Europe including Greek sculptures, Roman sarcophagi, medieval ivories and old master paintings.

Her time of employment at the Maryland Zoo in Baltimore as the School and Teacher Programs Coordinator cultivated her fascination with patterns, textures, shapes, and colors found in nature. Her personal teaching mission is to inspire students to engage with the world around them in positive ways, to promote excitement for creativity. In everything she does, Susan hopes to spark curiosity.

These experiences have inspired her artistic practice as Susan seeks to portray the natural world in unique ways through collage and painting. She hopes to inspire wonder and curiosity within the viewer.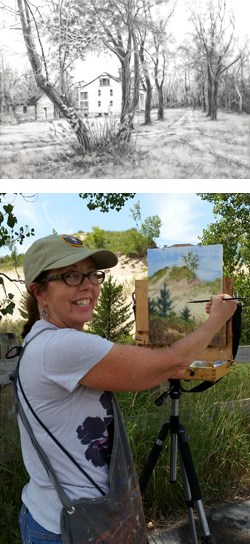 2016 Artist-in-Residence, Susan Ellison
Sue Ellison is a lifelong artist who received a Bachelor's Degree in Art Education. She worked in community art education with adults and children after graduating from college. Later she worked as a substitute art teacher while raising her children as she did graduate studies focusing on drawing and painting at Central Michigan University and working independently with artists whose work she admired. She is an avid plein air oil painter but most recently her work has been concentrated on graphite landscape drawing.

When Sue decides to draw a particular location there is an impression that draws her into that area. She observes the details nature has provided her and they are an important part of her artwork but it is the impact of that first response to the location that she embraces and seeks to express in drawing or painting a landscape. Striving for authenticity in her work, she aspires to produce heartfelt drawings and paintings that will engage the audience and she hopes that viewers will experience the same passion and awe she has for the world around us when they look at her work. Sue is grateful for the opportunity to participate in the Artist in Residence Program at Indiana Dunes National Lakeshore which provided her with an outstanding location with an abundance of variety in natural features and ecosystems where she was able to combine two of her passions – her love of nature and her love of art!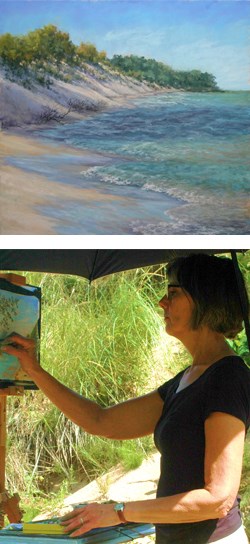 2016 Artist-in-Residence, Susan Klabak
Susan Klabak is a pastel landscape artist living in rural Wisconsin. Her interpretations of a particular time and place are sometimes described by the viewer as emotional, moody, and familiar.

Susan is a Member of the Pastel Society of America, Wisconsin Visual Artists, Wisconsin Plein Air Painters, Chicago Pastel Painters, Colorado Pastel Society, Great Lakes Pastel Society and Lakes Country Pastel Society.

Susan's work hangs in national and international private and corporate collections and her paintings have been exhibited in and received awards in regional, national and international shows. Susan's work can be viewed online at: www.susanklabak.com.
Last updated: March 14, 2019