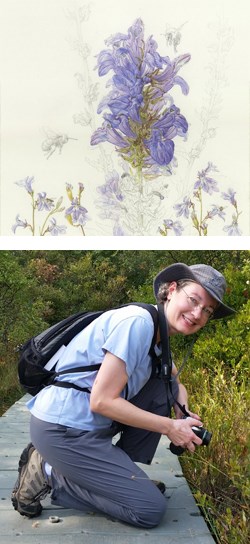 2016 Artist-in-Residence, Gillian Harris
Gillian's detailed drawings and watercolors bring together her love of creating art with her passion for natural science, particularly botany. Gillian makes her home between Bloomington and Nashville, IN, where she is an inveterate hiker and leader of nature walks in the area's forested hills and hollows. She is an Indiana Master Naturalist, and writes a monthly column, "The Wild Garden," for the Bloomington newspaper. She was artist-in-residence at T.C. Steele State Historic Site in Brown County, Indiana two springs ago and her desire to revisit the Dunes, where she had worked as a teenager in the Youth Conservation Corp, led her to apply for the AIR program here.

Since her first job as a natural science illustrator--contributing to a multi-volume animal encyclopedia-- Gillian has illustrated two garden books, one of which she co-wrote, and has been part of a number of international juried botanical and natural science art exhibits. She has also done illustrations for the Smithsonian National Zoo, and her work has appeared in botanical gardens throughout the U.S., as well as Kew Gardens in the U.K. She currently shows her original artwork, as well as her "Flora and Fauna of Indiana" notecard series, at Hoosier Artist Gallery in Brown County, Indiana.

Gillian takes great pleasure in the exchange between her art and natural history interests: while her naturalist's knowledge informs her work, the act of drawing or painting a plant, animal, or other subject leads her to know it more deeply than mere observation ever could.