2015 Artist-in-Residence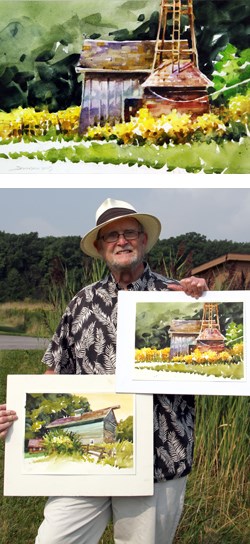 2015 Artist-in-Residence, James Johnson
James Johnson was born in 1944, educated at Kendall College of Art and the Art Institute Of Chicago. After a four year enlistment in the Navy, James Johnson began an illustration career that spanned the next three decades. During his thirty years in illustration, he won many awards in juried competitions, among them the New York Art Directors Club Exhibit and the Graphis International Exhibit. Since his retirement in 2003, he's fallen head over heals in love with painting from life, something James Johnson never had the luxury of doing while working commercially. James Johnson began by painting landscapes in Michigan, San Francisco and Key West. Since then, he's added still life, portraiture and figurative work to the mix. In October of 2009 American Artist Magazine published a feature article about James Johnson and his approach to watercolor. James Johnson presently paints, exhibits and conducts watercolor workshops in West Michigan.
James Johnson became interested in the Indiana Dunes after seeing a few of Frank Dudley's paintings of the Park area. He was struck by how different the Indiana shoreline looked from the Michigan shoreline he has painted for over ten years. He was then hooked. He had to experience the Indiana Dunes for himself. He applied for, and was accepted for the 2014 AIR but then had a life-threatening encounter with C-dif bacterial infection. Staff visual information specialist, Jeff Manuszak, informed James Johnson to concentrate on getting better and could do my residency the following summer, and that's exactly how it worked out. He completed thirteen paintings in thirteen days, plus learned a lot about oak savannas, bogs, and reclaiming toxic landfills. And he will never forget seeing the Chicago sky line from the Portage Lakefront. Thanks Indiana Dunes National Lakeshore, it was a magical summer.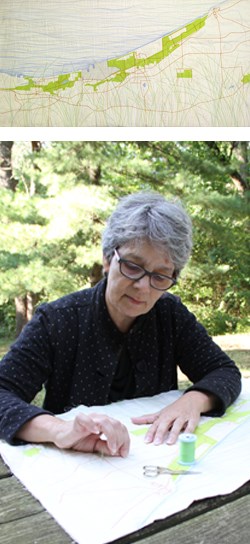 2015 Artist-in-Residence, Paula Kovarik
Paula Kovarik works to translate her ideas into fiber art at her home and studio in Memphis, TN. "You name it, I'm interested," she says. "Rocket science, plant biology, global politics, nature's quirks, and children's art are all inspiration and fuel for my art. Thread and fabric are her mediums. "Stitching is an extension of my thoughts through my hands. It is a slow art, textural and multi-layered. My residency at the Dunes was a great opportunity to learn and bear witness to the diversity of elements I found there."
"Immersing myself in this unique ecosystem taught me about tenuous connections and borders. I discovered silent witnesses to a changing environment—from shifting sands and surging waters to the stories of the pebble faces I collected on the beach."
Kovarik received her Bachelor of Arts in graphic design from Southern Illinois University at Carbondale. She ran a successful design business for over 25 years. Her art is largely self taught and has been recognized by American Craft magazine, Quilt National and ArtPrize 2015. To see more of her work and follow her progress on other pieces, go to PaulaKovarik.com.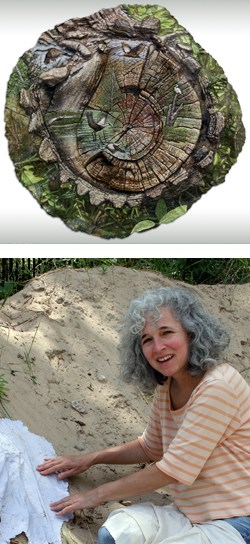 2015 Artist-in-Residence, Kathy Levine
"Being an artist-in-residence at Indiana Dunes National Lakeshore was a creative, fun and enlightening experience! I learned so much about the southern shore of Lake Michigan and the diversity of the plant and animal life in this area. I was truly amazed to see 200 foot sand dunes, forests, marshlands, prairies and bogs thriving within a few miles of working steel mills, large power plants and other factories!"
Kathy Levine was born in New York City but grew up in Spain and England. She studied art in London and New York where she received a M.F.A. from Pratt Institute. Her early influences were nature walks with her father and sister as well as seeing art from different cultures while traveling with her family in Europe, Morocco and parts of the Middle East.
She now lives and works in New York City creating art about the importance of connecting with and protecting nature especially in a world that is increasingly becoming urbanized. Ms. Levine uses recycled handmade paper (that she casts over natural and constructed molds), paint, photos and other materials. Ms. Levine's awards include a Brooklyn Arts Council Grant, an Artist-in-Residence at Indiana Dunes National Lakeshore, Painted Desert/Petrified Forest National Park, Millay Colony for the Arts and Yellowstone National Park, a biography in the Marquis Who's Who of American Women as well as an Honorarium from the Women's Caucus for Art.
Ms. Levine was a founding member of C.A.I.R.N. (City Artists in Response to Nature), a group of NYC artists who explored their connection with the natural world. Her work is in the collections of The Federal Reserve Bank, Dun and Bradstreet and St. Joseph's College among others. Ms. Levine has exhibited widely in the NYC area including GO Brooklyn Art organized by the Brooklyn Museum, The Islip Art Museum, Soho Center for Visual Artists, New York Law School and NJ Center for Visual Arts.
She has taught at Brooklyn College, The New School, Pratt Institute, Adelphi University, Fashion Institute of Technology, Dowling College, Suffolk, Nassau and Kingsborough Community Colleges.
In addition, Ms. Levine has organized many exhibitions and photographed for the New York Teacher Magazine/Newsletter, Kingsborough Community College, Dowling College and the Chinatown Planning Council.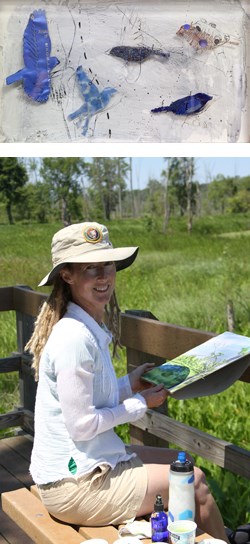 2015 Artist-in-Residence, Valerie Mann
Valerie Mann has shown her work professionally in the U.S. and abroad for 26 years. Her work has received numerous awards and is in public and private collections in the U.S., Europe and Asia. Public collections include, Google Ann Arbor, South Bend Museum of Art, St. Joseph Mercy Hospital, Ypsilanti, MI, Parkview Hospital, Ft. Wayne, IN, Muskegon Community College, MI, Grosse Pointe Library, MI, and Saline District Library, MI.
She grew up on a working farm, helping raise livestock, corn, soybeans, wheat and hay. Spending many hours outdoors and doing physical labor gave way to letting her imagination run wild. Having materials of all kinds available and parents who were largely unaware of missing spray paint cans gave way to interesting murals and manifestos 'appearing' on interior barn walls.
Mann is inspired by the outdoors, people, materials and pushing the boundaries of possibility with those materials.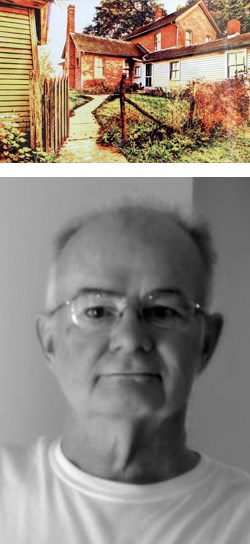 2015 Artist-in-Residence, Orion Holen
Orion Holen was born in Oklahoma shortly before the end of WW-II. Then his family moved to Upstate New York when he was approximately a year old.
For his 16th birthday, he was given $30.00 in cash and with it had bought a 35 mm camera—a Kodak Pony II—which had only one adjustment. Since then, he has been photographing continually (fortunately with better cameras). In graduate school, in the late 80s, his photography took on a more serious quality, as he began to realize photography was a way to understand his awareness and existence of the world around him.
Over the years Orion has worked as a studio photographer, camera store manager, wedding photographer, darkroom technician, newspaper photographer and a freelancer—photographing for magazine covers.
After finishing his Bachelor of Arts degree in English, he taught school for a few years (a Language arts curriculum). Once upon completing his Masters degree in counseling psychology, he worked as a psychologist for the Virginia Department of Corrections for 28 years.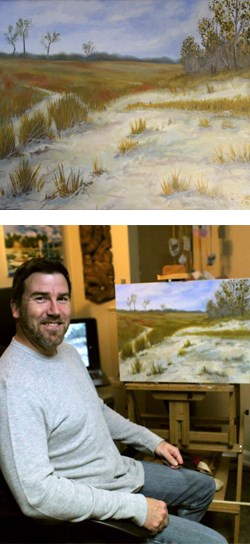 2015 Artist-in-Residence, Gene Snyder
Gene Snyder started drawing when he was a young boy by tracing Snoopy comics and became a comic book fan growing up drawing superheroes. Over time, he fell in love with fantasy stories and fantasy roleplaying games that sparked his imagination.

Gene graduated high school, which included studying hard during art classes his senior year. He also earned a scholarship to an art school, but stopped attending after a semester resulting from the need to find work, food, shelter and other necessities.

Gene Snyder also joined the Army, where he became a combat artist and art instructor. While in the military, he earned his degree in Art History and Studio Art. After that, he worked as a full-time graphic designer and illustrates as a freelance creating commissioned artwork. Overall, he declares that he is "still on this journey called 'Art and Life' and (is) always learning."
Last updated: November 9, 2016