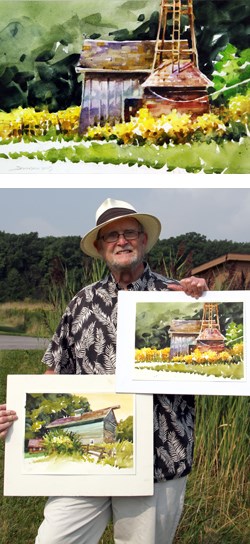 2015 Artist-in-Residence, James Johnson
James Johnson was born in 1944, educated at Kendall College of Art and the Art Institute Of Chicago. After a four year enlistment in the Navy, James Johnson began an illustration career that spanned the next three decades. During his thirty years in illustration, he won many awards in juried competitions, among them the New York Art Directors Club Exhibit and the Graphis International Exhibit. Since his retirement in 2003, he's fallen head over heals in love with painting from life, something James Johnson never had the luxury of doing while working commercially. James Johnson began by painting landscapes in Michigan, San Francisco and Key West. Since then, he's added still life, portraiture and figurative work to the mix. In October of 2009 American Artist Magazine published a feature article about James Johnson and his approach to watercolor. James Johnson presently paints, exhibits and conducts watercolor workshops in West Michigan.
James Johnson became interested in the Indiana Dunes after seeing a few of Frank Dudley's paintings of the Park area. He was struck by how different the Indiana shoreline looked from the Michigan shoreline he has painted for over ten years. He was then hooked. He had to experience the Indiana Dunes for himself. He applied for, and was accepted for the 2014 AIR but then had a life-threatening encounter with C-dif bacterial infection. Staff visual information specialist, Jeff Manuszak, informed James Johnson to concentrate on getting better and could do my residency the following summer, and that's exactly how it worked out. He completed thirteen paintings in thirteen days, plus learned a lot about oak savannas, bogs, and reclaiming toxic landfills. And he will never forget seeing the Chicago sky line from the Portage Lakefront. Thanks Indiana Dunes National Lakeshore, it was a magical summer.