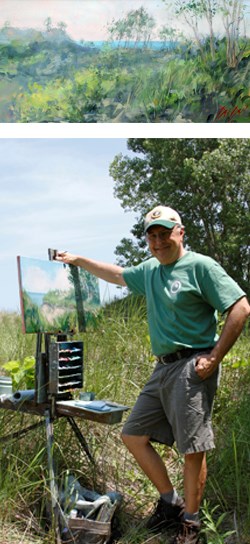 2013 Artist-in-Residence, Douglas David
Douglas David is an accomplished artist that has made his living through art his entire life. Douglas has studied the palette of Frank Vincent Dumond under Frank Mason of New York's Art Students League for over 10 years. He also studied with noted east coast painters John P. Osborne and John C. Traynor throughout those years. He earned a Bachelor of Fine Arts in VIsual Communication from Indiana University Herron School of Art.
When asked why he wanted to be an artist-in-residence at Indiana Dunes National Lakeshore he stated. "I think it would be very exciting to be a part of the continuing legacy of artists-in-residency at this park. From the artist who painted with Frank V. Dudley (d. 1957) to contemporary fellow artist, the region is significant in Indiana History. The park is such an important region of Indiana and such a wonder in the scope of our country - I look forward to getting to know it better. Through a concentrated focused time of study and without the day to day distractions of a regular studio is paramount and so valuable in an artist's life and work. The residency would allow me to put together a body of work through some studies and a few more finished paintings while immersing myself in the topography, the history and the science of the dunes."