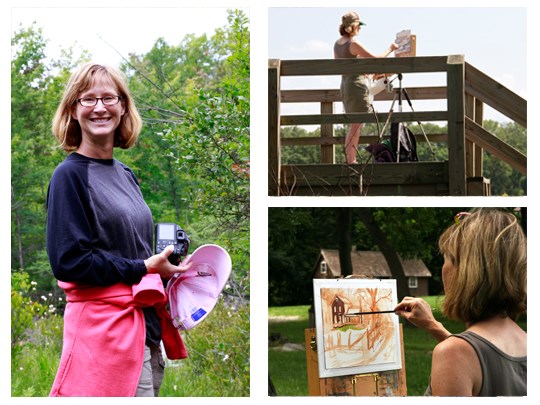 2012 Artist-in-Residence, Sherri Thomas
Sherri Thomas' interest in art has been life-long. "As a child, I was always coloring, sketching and tyring to copy things," she recalls. By the time Thomas graduated high school, she decided to pursue art as a commercial artist followed with a BA and MBA in marketing. A marketing career and children became her priority while her love of painting became an occasional hobby. As the children grew, so did her desire to focus on her art. She states, "Like the proverbial "siren call" art kept calling and I finally dipped my brush into the paint once again."
Returning to painting, she chose watercolors for their luminous colors. That year Thomas won first place in a juried show which encouraged her to keep going. Several years later, an instructor suggested trying oil paints for plein air painting. Thomas quickly fell in love with oils. She states, "The medium makes it possible to clearly express my personal artistic vision. It gives me the ability to change things on an ongoing basis as the painting develops and finds its own voice."
Thomas is an avid plein air painter and her paintings are a mix of plein air and studio work. As a plein air painter, she works quickly to identify the shifting patterns of shadows and light. Back in the studio, her goal is to further develop the painting while keeping the same closely observed spontaneity.
Thomas produced a beautiful 18"x24" oil painting from her resedency. You can view this painting and many others at the Indiana Dunes Visitor Center located on Highway 49 just south of Highway 20