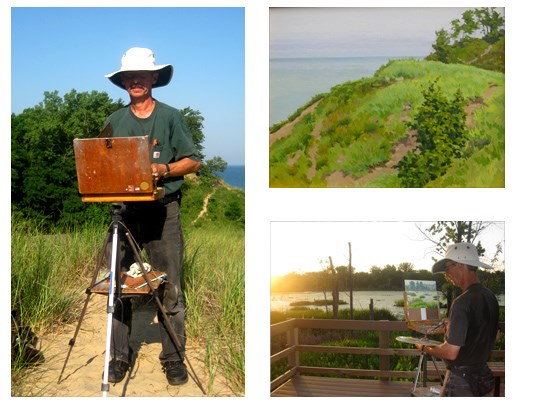 Mark Burkett is an accomplished artist experienced in acrylic, oil, and printmaking. By participating in the Artist-in-Residence Program Mark was able to produce a body of work inspired by the natural world visible at the Indiana Dunes National Lakeshore. Through his work he is able to direct visitors' attention to the qualities that make the dunes such a significant place.
When asked why he wanted to be an artist-in-residence at Indiana Dunes National Lakeshore, Mark responded: "I welcome the opportunity to express, in my art, the effect that the beauty of the dunes has made upon me. I would hope to convey to others my emotional response, as a visual expression, to my personal experience there. I plan to participate in an upcoming book project with Indiana Plein Air Painters and Historic Landmark Foundation to paint significant historic areas of Indiana. The story of the dunes makes it an appropriate subject for that project as well."
Mark produced a beautiful 16"x20" oil painting titled Paths to the top, which showcases a view atop a dune at the Central Avenue beach access point. When asked for his thoughts on the painting he responded:
"I hiked up to this area several times to paint during my stay. There was usually a refreshing breeze from the lake throughout the day. Looking east, the paths lead over the ridge and into the trees and beyond to Mount Baldy."