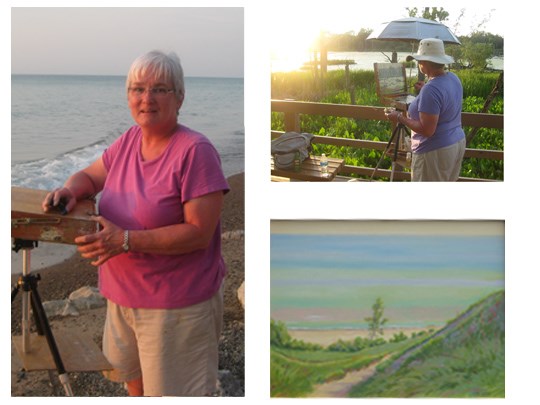 2011 Artist-in-Residence, Jeannie Mcleish
Jeannie McLeish began painting in 1970 and works in oil and watercolor. She produces images that reflect a deep love of nature and has a fascination with color and light.
When asked what she would like to accomplish during her residency she responded, "Painting is the way I have chosen to experience the world. I want to learn more about the lakeshore through exploration, observation, and painting. An extended stay would give me the opportunity to develop the visual vocabulary needed to describe the elements of beauty particular to the area."
Jeannie produced a beautiful 24" x 24" oil painting titled "Saved." When asked for her thoughts on the painting she responded: "After hiking the shady green wetland section of Cowles Bog Trail with its' tall ferns and deep shadows, I made a steep climb to the top of a great old dune. There my eyes were met by blinding sunlight and a long sandy slide down to the brilliant blue lake. It was from this vantage that I found inspiration to focus not on what was lost but rather what was saved."