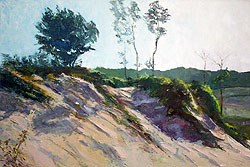 Edward Powell wrote the following shortly after completing his residency.
"The time between September 9 and September 28, 2006, spent at the Indiana Dunes National Lakeshore is just completed and I have returned home to Pittsburgh, Pennsylvania. The day is rainy and cool 60's, much like most days spent on the Dunes. I think there were about 5 days that had some sun during the time I spent there.
While the lake is responsible for much of what occurs in the landscape, it seems to play little role the forms that I found interesting to paint during this time. Of course the lake and sky are responsible for the light conditions and much of the color effects that create the ever changing moods one experiences while in that environment. I found the actual Dunes to be the most attractive forms with the undulations and disappearing turns that trails and wind have created. a kind of allure to climb and follow, both visually and physically. Dunes have been painted in places around the world throughout modern landscape painting, so my interest and work is not unique in any sense. Having that thought, I realize that the Dunes and the landscape in general simply ask to be painted – demands the attention of us – painters, poets, and photographers, or simply to be gazed upon by those moved by the connection to the natural forms and light. Ralph Waldo Emerson's famous essay, "Nature" explains the story best and I am always moved when I read it.
Contemporary Art generally disregards "landscape painting" as an interesting or significant mode of artistic expression for this age. There are however many, many artists working within that focus today, creating works that inspire and elevate the spirit of both viewer and creator.
It is too soon for me to evaluate my busy three weeks at the Dunes. I did create eight finished works while there, each very loose and expressive but within the framework of a "realist" tradition. I have lots of photos taken while there that I expect will be the source for more new work during the next few months."