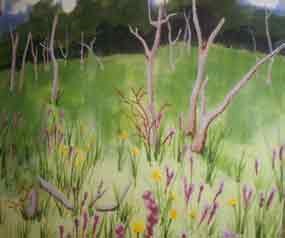 Howes Prairie
Painter Kirsten Brat originally painted a watercolor painting on site in Howes Prairie. She later painted the encaustic in the studio. Below she explains her painting experience at the national lakeshore.
But the emersion into nature is an important component in the process. After a short hike on an unmarked trail, I sat down in the company of the birds and insects, with no reminders of the civilized world in sight. The view chosen is from the basin looking up a hillside covered in grasses and wildflowers. The blazing stars were in full bloom mid-August when this piece was created. The watercolor took three hours to complete. During that time, not a single person crossed my path. Time lapsed without worries, without the pressure of schedules and deadlines. Having a three-week residency to do nothing but focus on creating art was a marvelous escape.
The prairies and woodlands are not landscapes immediately associated with the Indiana Dunes, though they constitute a large portion of parkland. For that reason, I find it important to represent them through my painting. It is my hope, that this will prompt the painting's audience to explore the park's interior, and gain an affection for its diversity.
The Howes Prairie encaustic is now part of the national lakeshore's artist-in-residence collection.