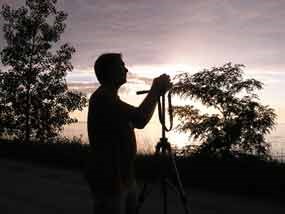 2006 Artist-In-Residence, Tom Virgin
Tom teaches art at Hialeah Senior High School in Miami, Florida.
During his residency he collected images and information that he is using to create a book. He will make several 16" X 20" woodcut plates and then use them to make the prints.
Here are excerpts from Tom's recent letter about fond memories of his residency. He enjoyed "....hiking most of the trails and being given tours by the excellent interpretive staff.... the sunsets over Lake Michigan will always be with me."