2005 Artist-in-Residence Mary Reusch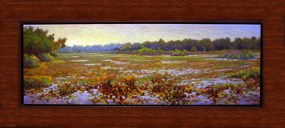 Mary Reusch is from Belmont, Michigan.
Being able to concentrate on her painting for a whole month, without the interruptions of daily life, is the great gift given to artists by the Artist-in-Residence Program, according to Mary. It allowed for total immersion in the natural surroundings so that she "could feel the spirit of the lake, the beach, the forest, and the whole area" and imbues that spirit in her paintings.
Mary was inspired by the tourists, naturalists, and park workers from all over the world that she met while at the shore, and filled with a deep "appreciation for all of those who work to preserve the shore area for us all."
Within 10 months of her residency, Mary completed more than 40 works inspired by the Indiana Dunes National Lakeshore. These works have been exhibited at galleries and shows throughout the Midwest.
Last updated: April 10, 2015