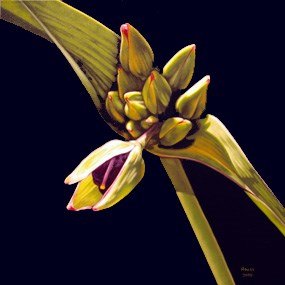 2005 Artist-in-Residence, Linda Hoard
Linda, a resident of Poulsbo, Washington, was in residence August 2005 when she created this piece of art work. The following statement was developed from information she provided for the October 2005 Indiana Dunes National Lakeshore Artist-in-Residence Exhibit at the Chesterton Art Center.
Linda, an artist with a disability, found the challenges of the Artist-in-Residence Program "very positive." From the technical challenges of traveling and staying at the lakeshore environment, to the emotional and productive challenges of turning inspiration into art and using her time to the fullest, Linda realized that she "could accomplish more than she had thought" and has now "set the bar higher" in her own life as a result of her residency.
Working with Elizabeth Hertel (Artist-in-Residence coordinator 1996 - 2005), meeting other artists and visitors, and experiencing a natural world vastly different from that of her native Pacific Northwest are the greatest benefits she derived from her residency.