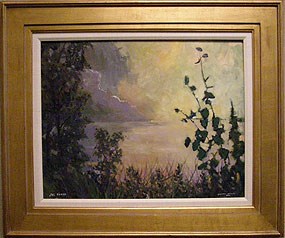 Joel is "a painter in motion," devoted to plein air painting because of its urgency and authenticity. He travels throughout North America and Europe attempting to capture nature's moods firsthand, as he was able to do as an Artist-in-Residence.
Capturing a storm building over the dunes before it passes and the rare opportunity to "walk in Dudley's shoes" were the highlights of Joel's time at the lakeshore.
His award-winning oil paintings have been displayed at the Hoosier Salon and numerous other art shows and "paint-outs," and are a permanent part of corporate and private collections throughout the U.S. and Europe.