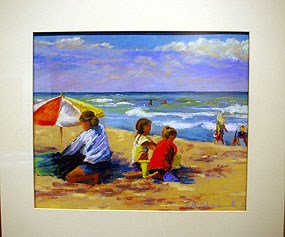 2004 Artisit-in-Residence Helen Stannard
Excitement, encouragement, and inspiration were the three things Helen took away from her experience as an Artist-in-Residence at the national lakeshore. While painting "en plein aire", she was encouraged by visitors, inspired by her surroundings, and excited by the breathtaking beauty of the Indiana lakeshore and surrounding dunes and woodlands.
Helen says she grew as an artist due to her experiences at the shore, finding that both her inquisitiveness and creativity benefited from her residency as well as her artistic development of natural subjects.
She has had two shows solely devoted to the works she produced as a result of the Artist-in-Residence Program.