2018 Artist-in-Residence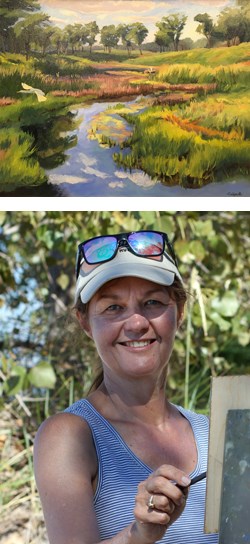 2018 Artist-in-Residence, Caroline Goldsmith
Caroline Goldsmith was born in the city of Sydney Australia in 1964. She has been busy creating her art since the age of three. Teachers reported on her love of color and line. At the age of 18, Caroline started her professional art career with an art apprenticeship at the Miadna publishing company. Later, she studied fine art at East Sydney Technical College, now known as The National Art School, at night while working as a finished artist during the day. While there, she completed two years of drawing, color, and design with honors. Then she transitioned from a full time Graphic Designer into a fine artist in 2012.

Caroline is a impressionist temperature painter, who excels in plein air oil painting. Her work has beautiful color and tone interplay with great abstract shape brushwork. When outdoors Caroline will take time to reflect on what she sees, practically having a conversation with her environment, as she mentally familiarizes with her subject. Something extraordinary occurs as she converses with the landscape and paints. She is mindful of capturing the light and atmosphere along with her natural response to the subject. Caroline's goal is to share an appreciation of the beauty, joy, and awe that surrounds us every day on earth. Caroline says "there is nothing better than watching the joy light up in a visitors face as they study the artwork and enjoy the experience and I experienced that many times while painting at the Indiana Dunes National Park. Very encouraging!"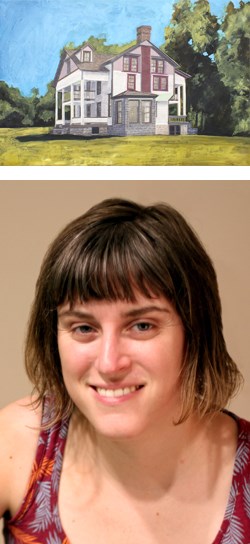 2018 Artist-in-Residence, Heather Heckel
Heather Heckel has a dual career as a professional artist and full-time public school Art teacher in New York. She earned her BFA in Illustration from the Ringling College of Art and Design, her MAT in Art Education from the School of Visual Arts, and is currently pursuing her MFA in Painting from the Savannah College of Art and Design. Her medium of choice is oil paint and colored pencils, with a fondness for representative art including portraits, still lifes, and landscapes. She strives to capture a likeness while demonstrating her emotional connection with her subjects.

Her artwork is in several national permanent collections, and has been shown internationally. Awards include the Pushing Boundaries Award from the International Society of Scratchboard Artists, the Next Generation Indie Book Award, and the Moonbeam Children's Book Award. Publications featuring her work include The 3x3 Magazine Professional Illustration Show and the Park Slope Reader.

Heather is passionate about traveling, the environment, social justice and animal advocacy. She has been awarded several artist-in-residencies through the National Park Service, which is an opportunity that combines all these interests. During her time at Indiana Dunes National Park she was especially interested in the diverse ecosystems and architecture within in the park. Beyond the glittering lakefront there were steep sand dunes, a working farm, a Black Oak Savanna and a bog to hike through, as well as several historic homes to explore. Her focus was to create a series of drawings and paintings that captured the impressive breadth of this unique park.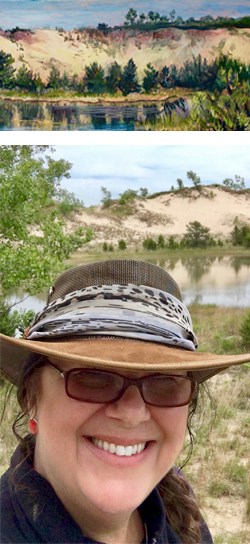 2018 Artist-in-Residence, Patricia Rottino Cummins
Born in New York City, Patricia Rottino Cummins completed her undergraduate studies at City University of New York. Upon graduation, she relocated to Miami, Florida, intrigued by the color and light of the subtropics. She continued her graduate and post-graduate studies at Florida International University.

She has taught art for 36 years at Miami-Dade County Public Schools and was an adjunct professor for 13 years at Barry University, Miami, Florida. Over the years, she has been selected to serve painting residencies at 14 United States National Park Artist-in-Residence programs. Indiana Dunes National Lakehore was her latest 2018 summer residency. For more than 10 years, Pat has been invited to exhibit her work and present seminars at Walt Disney World's International Festival of the Arts, and Flower and Garden Festival. She has studied art and has painted en plein air in South America, Turkey, Greece, Italy, France, China, Australia and Central America. Her work is featured in numerous collections throughout the United States. In 2015, her paintings from the Big Cypress National Preserve and Washington, D.C. traveled to Africa and were exhibited at the American Embassy in Niamey, Niger. Her botanical paintings were included in a National Park Centennial Exhibition, "Flora of the National Parks," at the Capitol Building in Washington, D. C. Pat was awarded Elementary Art Educator of the Year in 2015 by the Florida Art Education Association. Pat retired in 2015 from Miami-Dade County Public Schools but has taught pastel painting at Osher Life Learning Institute at the University of Miami during her retirement.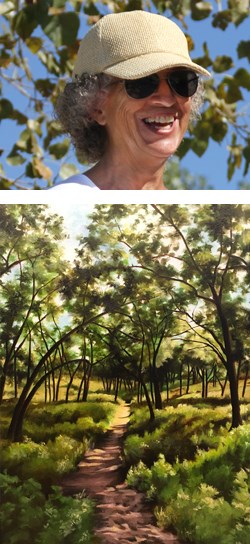 2018 Artist-in-Residence, Teri Rosario
Teri has always been interested in art in one shape or form. In college she majored in Theatrical Costume Design and then spent the next 25 wonderful years in that occupation. However, painting was always her first love.

So, in about 2004 she turned all her energies to doing just that, painting. Since then Teri have created paintings that have graced the walls of corporations, governments and private collectors alike. She's translated her clients' visions into works that inspire conversation, pride, inner thought and sometimes simply a serenity of place.

The Artist-in-Residence program at Indiana Dunes National Park is her second artist residency, and hopefully not her last. During her 2 weeks stay at Indiana Dunes, she really enjoyed walking the various trails through the Black Elk Savannahs, hiking the many and varied dunes, and standing knee deep in Lake Michigan watching the sunset. With her trusty camera and sketchbooks, she collected hundreds of wonderful images from which to work.

She has completed her first work – "Into Miller Woods" – and donated it to the parks collection. There are many more works to come.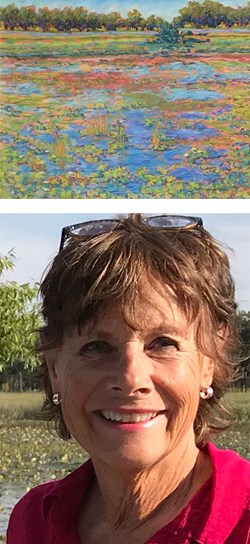 2018 Artist-in-Residence, Wendy Fetters
Wendy Fetters was born into an artistic family in Toledo, Ohio, where she was encouraged to explore the Toledo Museum of Art, which including the children's art classes. Visits to the Toledo Artist Club and private lessons sparked her enjoyment in drawing and painting.

Wendy graduated Bowling Green State University with a Bachelor of Science in Education, and also from the University of Toledo with a Minor in Education. Her teaching career spanned 36 years in special Education and First Grade. She adored teaching and encouraging creativity in young children.

A whole new world opened up for Wendy when she retired in 2007, which led to art classes at the Toledo Museum, Toledo Artist Club, and workshops all over the country. She also painted with two plein air groups and worked daily in her studio.

In 2011 Wendy moved to stunning, rural Knox County Ohio, where she became part of Kudos Art Co-op, and started a plein air group at Kenyon College, located at the Brown Family Environmental Center. She also paints, travels, and takes workshops with friends from the Columbus art community, and former art teachers.

Wendy believes the opportunity to become an Artist-in-Residence at Indiana Dunes National Park is a fantastic gift. She thought the overview tour of the park presented an astounding range of diverse and natural beauty. Indiana Dunes National Park is a treasure she hopes to return many times.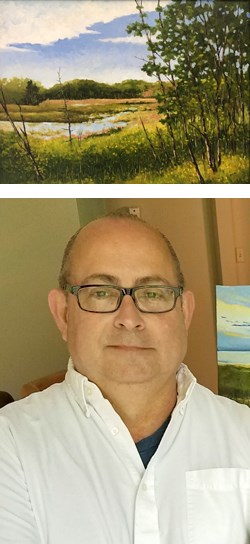 2018 Artist-in-Residence, Michael Janosky
The Indiana Dunes National Park Artist-in-Residence program provided a homecoming of sorts for Noblesville, IN oil painter Michael Janosky. Born and raised in Michigan City, IN, the influence of the dunes and beaches of the Lake Michigan shoreline is evident in his work. Michael began painting in Michigan City as a youth and has returned for several short visits since leaving the area. For the past twenty years, Michael's work has been dominated by the landscape of central Indiana. His residency provided the opportunity to immerse himself in the dunes environment and reconnect with the landscape of his youth.

Michael is a Resident Studio Artist at Nickel Plate Arts in Noblesville, IN and a juried artist member of Indiana Artisan and the Indiana Artists Club. While primarily self-taught, he studied Art History and Art Appreciation while pursuing his degree in Economics at Purdue University. He also took courses in painting and photography at the Northern Indiana Artists Association (now, South Shore Arts) in Munster, IN. Michael is active in supporting the arts and has served on the Hamilton County Artists' Association Board of Directors and on the Noblesville Arts Council. His work is available at the Hoosier Salon and Indiana Artisan Store as well as his personal studio and gallery.

To truly capture the essence of a subject, Michael believes you must paint what you know and understand. The time to explore, observe, and contemplate was the foremost purpose of his residency. Michael had the opportunity to gather reference material which will provide a limitless source of inspiration and has begun working on a series of paintings from his experience. He is looking forward to seeing its influence in his work and to share, from an artist's perspective, the unique and distinctive characteristics of the dunes environment.
Last updated: June 21, 2019